Are you looking for the best apps for married affairs? If yes, then you have come across the right webpage. Here I am going to share a list of the best married affairs apps. So, without any further ado, let's dive right in-
Extramarital affairs could be tricky, but there is no doubt, they can be very enthralling and pleasant. That is the main reason people go for married affairs even after knowing that it might ruin their married or committed relationship.
The thing is, if you have decided to do so, then nobody out there can stop you from having an affair. However, without judging you, I suggest you pick the right app to find an affair partner and do it in a way that will minimize the overall damage to your existing relationship in case you get caught.
In such a scenario, these extramarital affair apps come in handy. These not only minimize the overall risk of you getting caught but also help you find the perfect affair partner.
So, here you have the list of the best apps for married affairs-
7 Apps for Married Affairs
Every single app on this list is well regarded in the industry for its features, secrecy, and massive user base. Therefore, regardless of which one you pick, you won't face any problems.
1. Ashley Madison
Website: https://www.ashleymadison.com/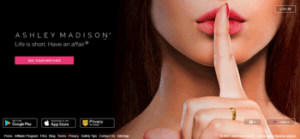 Ashley Madison is a Canadian online dating platform that is quite popular among married individuals interested in having an affair. It was founded in 2002, and at that time, it faced a lot of criticism because extramarital affairs were considered taboo back then.
However, due to that backlashes and controversies, Ashley Madison got sudden recognition, and the team behind it decided not to back down. As a result, it grew very well, and right now, it boasts over 80 million users worldwide.
Ashley Madison is on top of our list because it is the only dating platform on the internet (which is this big) that openly markets itself as a married dating app. Even they have that cheesy tagline that says, "Life is Short. Have an Affair."
Being an online dating platform that primarily targets married individuals, Ashley Madison takes user privacy and security on priority. Even they primarily advocate using a secondary email account for signing up on their platform.
Plus, their entire platform is encrypted with end-to-end encryption that ensures that none of your data will be stored on their server except your logs and information you have provided. Also, there is no way you can link your social media accounts.
They also allow you to set up 2-factor authentication. You can create private albums that can only be accessed by users who have the passkey, and you can use the built-in photo editor mask or blur your photos. Its self-destructing messages feature further makes it easy to hide your footprints.
Their traveling man and traveling woman feature allow you to select the city you are traveling to and start talking to open-minded individuals who would be interested in you. it is a unique feature, especially for those who often travel for their work.
If we talk about the pricing, Ashley Madison is entirely free for female users, but male users only have limited access with a free account. Even for most basic features like initiating a conversation, male users have to buy and use credits.
2. Adult Friend Finder
Website: https://adultfriendfinder.com/
With over 107 million registered users, Adult Friend Finder is probably one of the largest sex and swinger communities on the internet. It is the parent dating site from Friend Finder Network, and this dating platform consists of a highly active user base.
This platform was founded back in 1996 in California, US, and since then, it has been helping Americans to connect with like-minded individuals. It is the main reason almost 40% of its users come from the USA itself. However, now it has expanded its services across the globe.
Such a massive user base ensures that every single person on the platform will get a fair chance to get a partner.
However, the majority of its user base is interested in no-string-attached, short-term sexual encounters. Therefore, if you are looking for a short-term fling or just one-time fun, then there is no better choice than Adult Friend Finder will be the best app for married affairs for you.
The user interface of the app is very straightforward, and the app is all about finding a quick hookup partner. All you have to do is sign up on the platform, and boom, you are all ready to explore nearby people who are interested in similar things as you.
However, be aware that the content on this dating platform tends to be a bit porny, and it is completely NSFW. Open the app in such a surrounding where you are comfortable with surfing such content.
If we keep that porny content aside, it possesses a highly efficient user interface and matchmaking mechanism. The massive user base, eye-catchy UI, and highly efficient features are what sets Adult Friend Finder apart from other married affair finder apps.
The free membership account offers limited ad-supported access to the app. Free users can explore the platform, visit other users' profiles, join free live shows, and perform other basic tasks. However, to initiate a conversation, you will have to opt for the gold membership plan.
3. Victoria Milan
Website: https://www.victoriamilan.com/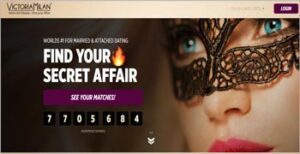 Next, we have Victoria Milan on our list. The service has been in existence since 2010, and since then, it has garnered a good amount of reputation and popularity. This affair dating app is primarily known for offering excellent security and privacy to its users.
It claims to be the "Worlds #1 platform for Married and Attached Dating." There is no doubt it is probably one of the best in the industry.
It boasts around 8 million registered users, which clearly means that it is not the biggest affair dating platform on our list. However, considering that this dating service mainly targets users interested in married affairs and offers the best privacy and security, it definitely makes a place on our list.
If we talk about privacy, that is something that sets Victoria Milan apart from any other married dating platform on the internet. The entire traffic on the platform is end-to-end encrypted with AES 128 SHA 256 128-bit encryption, which is considered to be military-grade encryption.
In addition to that, Victoria Milan uses a highly secured security system that has been designed and managed by Norton Security. This combination of military-grade encryption and security system designed by Norton takes privacy and security to the next level.
Along with that, they allow you to access many privacy features that include the Panic Button, AnonymousBlur, account block, account report, etc. Plus, they follow a very rigorous account verification process.
Apart from the security and privacy aspect, Victoria Milan has a lot to offer. Their search option contains many filters that can be used to narrow down the list of profiles according to their location, age, physical appearance, lifestyle, and even income information.
One thing about Victoria Milan that may appear as a drawback is its pricing. At $29.99 a month for a basic plan, Victoria Milan is definitely not the cheapest affair finder app out there. However, considering the privacy, security, and anonymity it offers, this married but looking app for affair is worth every penny.
4. Gleeden
Website: https://en.gleeden.com/
Gleeden is another dating platform that came into existence in 2009 when a bunch of unhappily married women decided to start something that might somehow help them. As a solution, these women launched Gleeden, a pro-feminist dating platform.
Being a dating platform that markets itself as "made by women, for women," Gleeden offers 100% free access to female users. However, this feminist dating platform doesn't come cheap for men. Male users have to shell out a minimum of $14.99 that will give them 25 credits.
The pricing of Gleeden is neither cheap nor budget-friendly at all. However, the bulk order can significantly reduce the pricing per credit from 60 cents per credit to 25 cents per credit, but for that, you have to opt for a higher plan.
Nevertheless, if we put the pricing aside, there are many good things about this dating platform. Like first and foremost, it is a platform that is specifically designed for married affairs. Therefore, it offers some additional features to protect you and your privacy.
For example, you can protect your account with 2-factor authentication. On top of that, it has a feature that works exactly like a panic button, but you can use that just by shaking your smartphone. Also, they have this very popular "self-destructive messages" feature.
Another good aspect of this that even though it only has 8 million users, the management team has done an excellent job maintaining the platform away from the reach of fake users and bots. Plus, if a recently signed-up member texts you, then you will see a "new member" badge on their profile.
The search partner option on Gleeden offers very extensive search filters. For example, you can filter profiles according to their age, body type, height, marital status, occupation, and lots of other things to find your perfect match.
Overall, Gleeden is undoubtedly a feature-rich affair dating app, but it comes at a price that might be a deal-breaker for you. Also, although they operate globally, the majority of its users are from the US and France. Therefore, see if it fits all your needs of the best app for married affairs or not.
5. Seeking Arrangement
Website: https://www.seeking.com
Seeking Arrangement is without a doubt one of the most famous married affairs apps on the internet. It is a sugar dating platform that has been helping sugar daddies to meet sugar babies since 2006.
If you are not aware of this concept of sugar dating, then let me explain it to you in brief. Sugar dating is a concept where a rich, wealthy, aged individual (can be a male or female) goes on dates and has fun with an attractive-looking young partner in exchange for money.
These wealthy individuals are called sugar daddies or sugar mommies, whereas the younger partners are sugar babies. The best thing about sugar dating is that it is all about money, and therefore, it possesses the highest success rates.
Obviously, this dating platform is not for everyone. Just the membership cost of Seeking Arrangement can go up to $249 a month, which is not cheaper in any way. On top of that, an average date with some fun with a sugar baby can cost you up to $10K.
So only enter into the realm of Seeking Arrangement if you are willing to pay that much amount. Otherwise, it is just going to be a waste of time for you.
If I talk about the user base, then Seeking Arrangement is a community of over 10 million registered users. These numbers are pretty fascinating because of the claim made by the platform. According to their website, they claim to have around four sugar babies for each sugar daddy.
Their claim seems a bit exaggerated to me, but one thing is clear that the gender distribution on Seeking Arrangement is much better than any other apps for married affairs. Also, sugar mommies are allowed on the platform that means it is not only male-oriented.
At last, the profile verification helps you to communicate with authentic profiles only. If you like somebody on this platform and their account is not verified, you can ask them to verify it first. It will ensure that you are dealing with a genuine person.
6. Tinder
Website: https://tinder.com/
Tinder stands among the most popular online dating platforms on the internet, and its user base is continuously growing all over the world. It boasts over 66 million registered users out of 6.7 million are paying tinder subscribers.
Even though it has a whopping 66+ million users, it is in a low position on our list because it is not primarily a platform for married affairs. It is a casual dating platform that is getting quite popular to find hookup partners nowadays.
Therefore, if you are more inclined towards one-night stands or quick hookups, Tinder can be a good bet. After all, 66 million users would be more than sufficient to find somebody to get laid with.
Tinder is quite famous for its one-of-a-kind left and right swipe feature. The concept is straightforward – if you and the other member swipe right on each other's profile, you guys will get a chance to connect and try to take it to the next level. Left swipe means you are not interested.
This swipe feature also ensures that no spammer can sneak into your inbox. Only mutually matched users can initiate a conversation.
Additionally, it has a "super like" feature that notifies the user that you have super liked their profile. It also offers a "boost" and "super boost" feature that shows your profile above in searches and makes it more discoverable.
Tinder mainly works on a location basis and shows nearby profiles for free users. But premium membership users can also search profiles using the search option. Other advanced features include smart photos and end-to-end encrypted video chat.
Overall, Tinder can be an excellent married affair dating platform, but it lacks some security and anonymity features since it is not primarily designed for that purpose. If you are okay with that, then I highly recommend you give it a try.
7. OkCupid
Website: https://www.okcupid.com/
Last but not least, we have OkCupid on our list. It is an online dating platform that markets itself as a place where like-minded people can meet and connect. Even though OkCupid primarily targets singles, it is not a criterion, and therefore, you can use it for married affairs.
OkCupid was founded back in 2004 by a group of college students of Harvard University. But the app quickly picked up speed and gained recognition around the world. As a result, Match.com acquired OkCupid in 2011 by paying founders $50 million in cash, plus a future payment contingent.
Despite being a Tinder, Hinge, and POF sibling, OkCupid doesn't have a similar approach to connecting people. Instead of swiping the option to like or dislike a profile, OkCupid prefers asking detailed questions and, based on that, shows up matches.
It sounds a bit outdated to many. However, for me, spending time answering these questions makes more sense than talking to somebody with whom I won't go for dates or anything.
Another impressive thing about OkCupid is its massive user base. It serves over 70 million worldwide users. Also, according to statistical data, they get over 8 million weekly active users. These higher numbers of users increase the chances of getting an affair partner overall.
Those looking for marital affairs would get a slight benefit from the platform as OkCupid doesn't verify any of your details. OkCupid doesn't even ask me to verify the email, which sounds like a loose point. That is because anybody can enter fake information, and you would never know.
It is a double-edged sword – you can enjoy OkCupid without even revealing your real identity or your marital status, but you would never know if the person you are talking with is genuine or completely fake.
That said, OkCupid is a freemium platform. You will get free access to most of its features but only to some extent. I.e., free users can send a match request, connect with users, communicate with them and do lots of other stuff. But to boost your profile or see who liked you, you will need a premium membership.
You may also like;
Closing Comments
So, there you have it – a list of the seven best apps for married affairs.
We created this list after testing 100s of popular online dating platforms. However, since we know that user privacy and anonymity come as a priority for extramarital affairs and therefore, we tested these apps accordingly.
If anonymity is something you want, I suggest you go with Ashley Madison or Victoria Milan. These are the best in terms of privacy and security. But if you just want a hookup, Adult Friend Finder would be a good choice. In comparison, Ashley Madison and Gleeden are all-around performers.