Yesbackpage review: In this in-depth review blog post, we will have a closer look at one of the popular classified websites based in the United States of America called Yasbackpage.
If you reside in and around the USA, UK, Australia, Canada, and New Zealand, you can seamlessly reach your business to people in the above countries at no cost.
Whether you want to buy or sell goods as a business or even as an individual, you can highly use the Yesbackpage classified platform.
Even though the evolution of social media platforms and marketplace websites has increased daily, in 2023, many people still consider classified websites to buy and sell products and hire business services online.
Suppose you have already heard good about Yesbackpage but are still unsure whether the classified website is legit and safe to use; in that case, this Yesbackpage review blog post will provide you with valuable ideas.
Let's get started to discuss more about Yesbackpage.
What is Yesbackpage?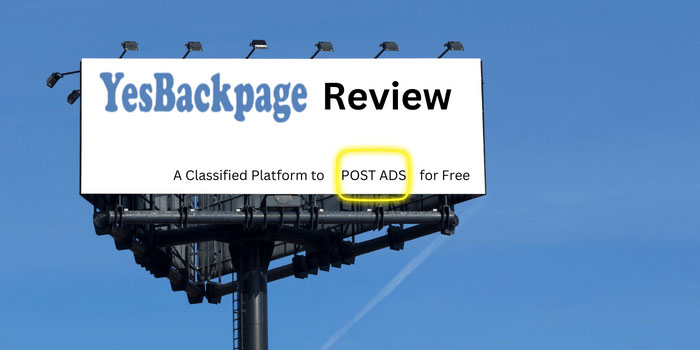 Similar to OLX, Backpage and Craigslist, Yesbackpage is a US-based classified advertisement website with so many ad posting category options such as Gigs, events, restaurants, housing for sale, adult and dating services, buy and sell items, real estate, jobs, community, and rental services. It is absolutely free to join.  
Yesbackpage was founded in 2018 as a classified platform in the USA first and then started expanding its services to Canada, UK, and Australia.
The platform now covers almost all the cities in the above-listed countries.
Yesbackpage Review – How about the Classified Platform User-Friendliness?
You will get a better user experience at Yesbackpage as the website interface is easy-to-use for even customers with less internet knowledge.
You can easily post ads to the Yesbackpage classified website following a few steps.
Create your Yesbackpage Free Account
You can create your Yesbackpage account in less than a minute by following the below-listed steps at no cost.
Step 1: Click this URL https://www.yesbackpage.com/signup, and it will directly take you to the account creation page.
Step 2: Fill up the details such as username, Email address, and password and then tick the check box confirming that you agree to the Yesbackpage terms of use.
Step 3: Once the details are filled in, just click the signup. Upon the successful signup attempt, you will get an account activation Email.
Step 4: Click the activation link received in your Email.

That's the process, and you will get your free account to post ads of your choice under the classified platform's categories.
Note: Even the website itself mentioned No Email verification is required, but you will receive an activation link. So, check your email soon after the signup to instantly activate your account.
How to Post an Ad of a Product or Service on Yesbackpage?
In this section, let's look deeper at the ad listing process.
Step 1: Log in to your Yesbackpage account using the Email and password credentials you have used for account creation.
Step 2: On the top of the page, you will see an option, 'Post Ad'. Just click on it.
Step 3: Now, you are requested to choose the location for your ad. Country first and then states in the country. You can choose a city or county if you are posting ads in the USA.
Step 4: You have four country options at present to choose from. USA, UK, Australia and Canada are the available options. Choose a country, state and then the specific location of the state.
Step 5: Once you have selected the country, now it's time to choose the ad category. You will have 12 main category options to choose from, which you can see in the image below. Click a category of your choice.
Step 6: Choose the subcategory of your ad, as each category has 10+ different subcategories to select from.
Step 7: Fill up your ad title and description, add an image, if any, and then check the box to ensure that you accept the terms. You can opt to display your Email address to receive direct Email responses.
That's the whole listing process to make your advertisement live on the platform.
Even though the classified platform declares that they are open for posting ads at no cost, you need to pay $1 for some locations and categories to run your ad continuously for a week.
I will explain about the paid ads in the upcoming pricing section. The prices are too affordable.
If you need clarification, is Yesbackpage legal to use? Undoubtedly, the classified platform is legal to post your ads in the respective locations available on the platform.
Key Features Offered by Yesbackpage Classified Website
List your Ads to Four Countries
While some USA-based classified platforms open for one or two countries to list ads, the Yesbackpage offers options to post your ads to locations in four countries, including the USA, Canada, the UK and Australia.
Post Ads to 40+ US Cities and 300+ Counties  
No matter where you want your ads to be displayed on the platform, you can choose from 300+ US counties. So, if you want to target a particular county, you can easily select the county from the location and post your ad only to get views from people in the area.
Covers All Popular Canada, UK and Australian Cities  
If you want your ad to showcase among people of particular cities in Canada, the UK or even Australia, you can seamlessly choose the location and publish your ad.
The Category Options are Just Huge 
Whether you want to post a Gig, dating-related services, buy/sell/rent a house, or look for beauty services, you can use the classified website. There are a lot of categories and subcategories to choose from while posting your ad.
One Stop Destination to Find What you are Looking for  
As you may know, a classified platform is not just for posting your ads; you can also use the platform to find what you are looking for in a particular location.
For example, if you want to buy auto parts from Wales city in the United Kingdom, you can use the Yesbackpage platform to find out if someone posted an ad for auto parts.
You can follow the same way to easily find what you are looking for out of 100+ different services, including adult and dating services.
After coming to know Yesbackpage adult services-related ads, many doubted like, is Yesbackpage safe to browse. Yes, browsing for what you are looking for in such particular categories is safe.
Yesbackpage Review – Pricing & Payment Methods
As said earlier, posting ads on Yesbackpage classified platform is paid for some locations and categories.
So, in this segment, let's take a quick look at the pricing structure and the available payment methods.
Post an Ad Cost From Just $1  
Regarding pricing, you will be charged $1 for posting an ad to the Yesbackpage platform. Generally, your ad will be displayed for seven days for most of the locations and categories.
But some categories get your ads displayed for 15 to 20 days.
I found that the platform used to display most of the adult and dating-related service ads for up to 15 to 20 days for just $1.
Promote your Ad Starting from Just $3  
If you want to showcase your advertisement to the topmost place in the particular category section, you can promote your ad.
The promotional ads are, in other words, known as featured ads. You can promote your ad for 3, 5, 7 and 15 days time frame as well.
Here are the pricing details for promoting your ad to be featured on top of the results.
$3 for 3 days
$4 for 5 days
$5 for 7 days
$10 for 15 days
The higher the days you choose, you will get the more benefit in pricing.
Extend your Ad Starting from Just $10
 If you want to display your ad for more than the days you have availed for $1, you have to choose the extend ad option in order to extend the number of days of your ad.
Depending on the extension period you choose, the pricing structure may vary. To run your ad longer for extra:
10 days, you have to pay $1
20 days, you have to pay $15
30 days, you have to pay $20
Payment Methods
Remember that you cannot directly pay for the ads that you posted on the Yesbackpage platform. Instead, it would be best to buy credits first and then use them within your account to post ads.
Buying credits from your Yesbackpage account is a simple process. On your account menu, you will see an option called 'Buy Credits'. Just click on it.
You are required to choose the payment amount starting from $10, $20, $30 and $50.
Choose the payment amount that you want to add as your credits. Follow the checkout procedure by selecting your preferred choice of payment method.
Once the amount has been successfully credited to your Yebackpage account, you can use the same for posting, promoting and upgrading your ads.
Yesbackpage Customer Support
 As the platform is a classified website, there is no phone support or live chat support offered to the users. But fortunately, you could avail of their Email support.
The platform does have an official contact page where you can see their active Email address.
If you want to ask anything related to their services, ads, locations, payments, categories, security as well as privacy policy, you can easily contact them via the Email address.
No estimated reply time is mentioned, but you will get a response back to your query within 24 hours or less.
FAQs on Yesbackpage Review
 Is Yesbackpage Real?
 Undoubtedly, Yes. The Yesbackpage is a real classified platform which is found in this link. With the use of the American classified advertisement website, you can buy/sell/trade items in 2023 with its massive customer base.
Is Yesbackpage Legit to Use?
 While the platform offers adult and dating services as part of its ad posting categories, the question is Yesbackpage legit to use often asked. The platform is legit to use.
They have declared a clear Terms and Privacy pages on their official website to confirm they are legitimate classified websites in the USA.
Is Yesbackpage Safe?
 Yes, it's safe to use. You will face no issues with Yesbackpage. They are good and legit at protecting user privacies. So, without a second thought, you can use the platform to post and browse ads in the website category sections.
Is yesbackpage a scam?
No, it is not a scam. It is legit website.
Yesbackpage Review – Final Verdict
 Now it's time to reveal the final verdict from my personal opinion on the popular classified platform.
Yesbackpage has proven to be a worthy classified website for buying, selling, and renting products and services under several 100+ categories.
The platform provides an easy and, most importantly, secure way for users to connect with each other on and outside the platform.
Whether you are looking to post an ad to sell your items, buy or rent items from other user ads, or even offer or look for services, the Yesbackpage platform is a safe, legit and solid option to consider.
Overall, based on my unbiased Yespbackpage review, I can confirm that Yesbackpage is not at all a scam, it's a safe, reliable and trustworthy choice for those who are looking to post ads in the platform's available location and categories.