9 best lesbian fuck sites and apps are what I've listed on this piece. These aren't just random "dating" websites. I've made sure to only include those which prioritize or are exclusively dedicated to lesbians or at least to the LGBTQ community.
You may be a website person, or maybe you're more comfortable with "apps"? I've kept that in mind and you'll find both the platforms listed below.
Let's see which of these are worth your time then?
The 9 Best Lesbian Fuck Sites in 2023
Here are all the sites and apps to find a lesbian partner in 2023:
Ashley Madison– Biggest user-base, most features [ website + app]
PinkCupid- Website
HER- App
LesbianPErsonals- Website
Taimi- App
BiCupid- Website
Zoe- App
DoULike- Website
SPICY- App
1. Ashley Madison
Website: https://www.ashleymadison.com/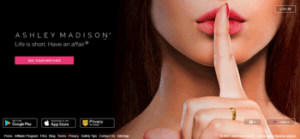 Ashley Madison is probably the best place to find lesbian partners. It isn't because Ashley Madison is dedicated for lesbians, it isn't. Rather, it's because the platform has the largest user-base on the planet, over 70million members! That's more options than you find anywhere else.
When signing up, you simply select "female seeking females" and you're set! Uploading photos isn't mandatory either, you can skip it! It even allows you to mask/blur your photos if you don't wish to reveal it all.
Profiles have an "about me" section and a "vitals" section which tells you height, weight, shape and other features about a person.
Even without searching, Ashley Madison will show you profiles close to you when you log in to your account.
Profile access is open to everyone. Even without paying, you can favourite people and send them winks. Private photos too can be accessed if you're allowed access by the profile owner.
Its instant messaging feature is pretty desirable. Feeling lost in the crowd? You can go for the optional paid "highlighted messages". This will display your message over others in the recipients inbox.
Because Ashley Madison's primary USP is "married dating", most users don't care much for your current relationship status either.
2. PinkCupid
Website: https://www.pinkcupid.com/
PinkCupid says it's a "premium dating service designed for lesbians". The site has been here since 2006, with nearly 15 years of experience, it can't be a total disappointment, right?
As for the interface, it syncs with the name. Most of the site is Pink, and really easy to use.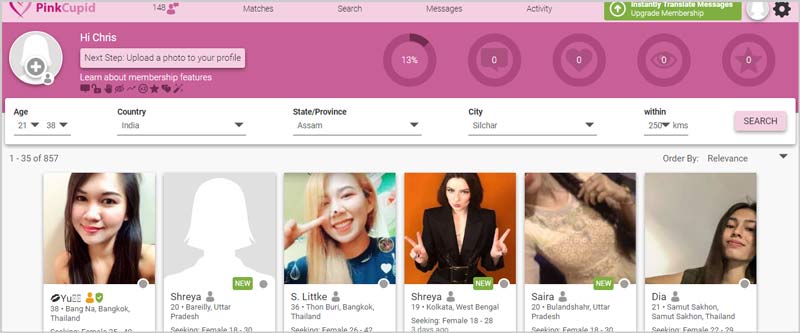 After logging in, I see a ton of profiles. There's also a search feature. It lets me set a date-range, country, state, city and even a distance-range.
The age, location, age preference and number of photos on each profile are shown on these profile thumbnails.
It does have "verified profiles". This helps you easily identify profiles which are legit. The profiles are extremely detailed. How the person looks (eyes/hair/ body shape/), income, pets, children, living situation, education, sexuality and everything else is mentioned.
The best part? For each of those information bits, the profiles also tell you what the person seeks in their partner. (So, you'll know the hair colour, religion, smoking habits and everything else the person wants in you).
It has a "matches" feature. Based on the information on your profile and others, PinkCupid matches profiles. This is one of the easiest way to find compatible partners.
Signing up and browsing profiles is 100% free. Sending messages would require a paid membership.
3. HER
Website: https://weareher.com/
Her is one of the biggest lesbian dating apps on the planet with over 8 million registered users. Again, a Tinder-like interface is what you'll see.
When signing up, you get to select your pronouns,  sexual identity, gender identity and a lot more. It offers one of the most descriptive and informative profiles out there. You get to select your interests, what you're looking for, a bio and a lot more.
Finding people is easy with its auto-detected GPS feature. Manually changing the location requires a premium plan.
It's more social than most other lesbian fuck sites on this list. There's a complete "feed" which is used to post text, photos and videos. Likes, comments and shares are possible on these feed posts.
It even has "communities" which are like groups, anyone can make posts here. Maybe you're an outgoing person? It even has events you can join!
It does show who liked you, but only if you're on the premium plan. You can "add friends" , view existing friends on a profile and obviously send a message if you match with someone.
The search filters aren't very impressive, you can select a distance-range but that's about it.
Profiles can optionally be verified. Once verified, a tick indicates the verification and these are the most trustworthy users on HER.
It can totally be used for free. However, paying removes ads, shows who's online, and unlocks the incognito mode (hidden browsing).
4. LesbianPersonals
Website: https://lesbianpersonals.com/
LesbianPersonals is a member of the Adult Friend Finder network. If you've been on my list of dating sites for married people, you already know what AFF is.
Do note that even though this site looks and feels exactly the same as AFF, its user-base is actually totally different. You'll only find women interested in other women here (and a few fake profiles).
As is natural on any AFF member site, expect a lot of nudity. Quite a few profiles have nudes as their profile pictures.
You'll love its social features though. Adding friends, hotlisting them, commenting on someone's feed post, creating or joining communities and a lot more is possible.
It also has live broadcasts as is the case with any other AFF-member site. I love the fact that each profile shows if you match or don't match with the person based on information entered by both users.
Profile verification sure exists which limits scammers and fake profiles. Interests and profile bio are open for all. However, photos or actually viewing the profile requires a paid plan.
People can send you flirts, gifts, tips etc. You can also see who viewed you for free. The search filters are impressive. Apart from the traditional body, race, martial status and other filters, it also lets you choose the person's sexual orientation.
5. Taimi
Website: https://taimi.com/
Another name that shouldn't be missed when talking of lesbian fuck websites is Taimi. It isn't browser-based though and is rather an app. It basically feels like Instagram (looks) combined with Tinder (features).
Do note that it's not perfect. We'll talk of the problems later,  for now, know that the app has over 12 million registered users!
Being a LGBTQ dating app, it lets you choose your gender identity and doesn't limit you just to male/female.
As mentioned earlier, it's an Instagram clone.  You can post stories, text posts or add photos. Others can engage with your posts. It has groups you can join. There's even a live-stream feature, which anyone can join for free.
There's a feature called "spot search", it lets you search for people at specific locations. Other search filters include a distance range, age-range and sexual preferences (top/bottom/ switch etc.).
Whenever someone visits your profile, you get notified in real-time, for free. Optional profile and ID verification does exist. People can even call you on the app!
Now, for the "problems"? The app almost forces you for a free 7-day trial! That's great news.
However, you must cancel it 24 hours prior to the expiry period, else you're charged. There are no notifications/reminders before you're charged. A lot of users had to pay for something they wanted to cancel and hence just be cautious.
6. BiCupid
Website: https://www.okcupid.com/
As the name suggests, this one is for Bisexuals. That means, even though it's not exactly like the other lesbian fuck sites here, lesbian partners can still be found.
It's almost 18 years old at this point with over 2,441,500+ registered members!
The onboarding process does take a bit of time. It forces you to enter a headline, a bio, interests, and a profile photo. All I'm saying is, I'd have loved a "skip" option.
Now, it has an amazing interface. It's very minimalistic and easy to use.
The search panel lets you search based on age, country, state etc. There's a discover page which lets you find new members. It even has events and communities which can be used to find partners.
It's basically like a social media but focused more on the LGBTQ community. Do note that it has a very strong fake-profile detection algorithm. I created a fake profile with random information and it was banned in about 10 minutes! (Good, right?).
7. Zoe
Website: https://www.zoeapp.co/
Zeo slightly deviates from the other lesbian fuck sites on this list and is an application. A rather good one.
For starters, it makes it mandatory to have a profile picture no matter what. Then, it even has a verification feature for profiles. Verified profiles are displayed more often and have higher chances of getting a match.
It works more or less like Tinder. You swipe left or right, if you match with someone, you get to message them.
With its location access, it's capable of finding people who're geographically closer to you. Search filters do exist, you can filter for age and "maximum distance".
It also stores swipe history. This lets you see who you swiped for in the past.
It's 100% free to use. However, going premium offers more features. For starters, it lets you rewind accidental swipes, use stickers in chats, access to a "private mode" (only those you "like" can see you as a match) etc.
Another premium feature is its location freedom. Premium members do not have to be locked to their GPS and can set locations manually. Paid members can also send messages to people even without being a match.
8. DoULike
Website: https://www.doulike.com/
DoULike isn't dedicated to Lesbian needs, however, it does have a "women likes women" feature so that's how you can find your partner there.
Signing up is completely free. You can even set an automated message which is sent to everyone you like.
Even though it's a website, it has the Tinder features (swiping left/right). Android and iOS apps are available though.
Very simple UI. On the discover page, you see lot's of profiles. You can either heart them, or reject them. Matches get to text you, simple, right?
It's mandatory to upload a picture if you wish to be discovered by others. There aren't any advanced filters or features. The optional subscription starts at $0.33/day if you go for its 6-month plan.
9. SPICY: Lesbian & LGBTQ Dating
Website: https://play.google.com/store/apps/details?id=com.jaumo.lesbian&hl=en_IN&gl=US
As the name suggests, it's obviously dedicated to lesbian dating. Once of its best features is verification. Profiles can optionally be verified increasing their visibility and authenticity.
The core is obviously like Tinder, you like/reject profiles. However, on SPICY, anyone can text anyone, regardless of match status. The texting interface does resemble a bit with that of Instagram.
The actual likes (those who like you) are only shown to paid members though. The same goes for "visitors'. It does have a "games" feature, you can play basic mobile games with those you're talking to.
An audio call feature exists as well, letting you call the other person in real-time.  For a mobile app, its search filters are impressive. It lets me filter for gender, age, distance, country, body height, type, languages, education, relationship status, smoking habits, tattoos and basically everything else.
It also has a "nearby" page, this only shows the closest profiles to you. Also has a "hide profile" option, this lets you keep your current matches and conversations but doesn't show you to new users.
Multiple paid plans exist, starting at about $2.5/month.
Signing off- Which are the best lesbian fuck sites?
I've mentioned about 9 different lesbian fuck sites and apps so far. Which of these are the best?
Start with Ashley Madison. Its 70million users almost guarantee you'll find your partner there. It offers some of the most advanced features in the entire industry.
If Ashley Madison doesn't make you happy, go with HER if you need a mobile app, or with PinkCupid if you're only comfortable with a "website".
Taimi, BiCupid, SPICY and all other options are lesbian-centric as well. They're mentioned lower simply because a smaller user-base and maybe fewer features.
Go give these lesbian fuck buddy sites a try and see which helps you find your partner?