These dating sites for married people will help you find a partner in 2023, period.
Almost every person you meet on these sites is either married, or, is okay with you being married. Being so, they understand the values of privacy and secrecy.
In fact, most of these websites offer special privacy features from their end as well. Rest assured, no one sees your photos, contact info or other revealing information without you wanting them to.
And hey, you aren't the only person checking out new partners outside your relationship. A study suggests that over 15% men and 25% women get involved in extra martial affairs. (And, this is just the % of people who "accepted" doing that!)
Long story short, let's get you someone to talk to.
The 7 Best Dating Sites for Married People in 2023
Considering anti-fake measures, user database, secrecy and other features, these are the best sites to find someone new even if you're already married:
These 7 options probably have over 70 million users profiles between them! Enough choices, right?
1. Ashley Madison
Website: https://www.ashleymadison.com/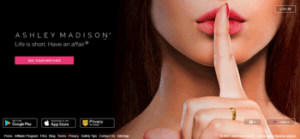 Ashley Madison is the best dating site for married people. Hey, I'm not saying that. Its 60million+ user-base does. In fact, that's probably more than the database of all the other sites on this list combined!
Ashley Madison was founded in 2001 and is arguably the oldest site of its kind.
How do I know its for married people? "Affairs and Discreet Married Dating" is its tagline. Exactly what you're looking for, isn't it?
Now, married dating is a controversial affair, isn't it? Being so, privacy and secrecy are of utmost importance. Ashley Madison offers some of the strongest privacy and secrecy features out of all the married dating sites on this list.
When signing up, absolutely no personal details are required. In fact, it encourages you to not use any social media usernames or accounts. You can't login via any social networks either.
Tip: Ashley Madison recommends using an unique, new e-mail ID for signing up.
You can upload your photos without privacy concerns as well. Ashley Madison lets you make your photos "private". Users have to request access to your photos and you can grant them to specific individuals. You can also blur/add masks to your photos.
It also has a "quick reply" feature. It lets you send semi-automated replies to users without having to reply to every single "wink" you get.
One of my favourite features is its "Travelling man/women". Imagine you're travelling to X city. Ashley Madison helps you find partners in that  city before you even grab your tickets!
What if someone gains access to your account? They won't find a thing! Ashley Madison has this "self destructing" messages feature! Send the quirkiest messages without leaving a trail!
Just so you know, it's not "limited" to married adults. You can just as easily find singles as well.
Without having to pay a penny, you get access to profile photos, profile data, physical traits of the person, interests and a lot more.
If you do choose to pay, you can opt for its "Priority man" feature. This makes sure your profile is highlighted in search results. Get noticed!
You don't even need to "keep paying" to communicate with users. It has this "member initiated contact" feature. You can reply forever to messages (even after you run out of credits) sent to you by female members on Ashley Madison.
It even takes care of payment privacy. You can pay even using gift cards in addition to being able to use PayPal and cards. If you do use credit cards, the transactions aren't marked "Ashley Madison", rather, they're marked something vague and unrelated to the site.
In a nutshell, there's truly no better alternative to married dating than Ashley Madison. Go check it out.
If you prefer apps (mobile applications) over websites, Ashley Madison offers both Android and iOS dating apps.
Best features:
100% anonymous.
Self-destructing messages
Travelling man/women feature
Anonymous billing
60 million+ users
All features 100% free for women
2. Adult Friend Finder
Website: https://adultfriendfinder.com/
There's a reason why I've listed this at 2nd position, not at top of this list of best married dating sites.
It sure is a dating site, just not exclusively for married people. And the profiles here lack professionalism. In other words, a lot of nude photos, some almost gross are what populate the site. This is why I've also listed this as a MegaPersonals alternative.
Can you find married individuals looking for a relationship? Most certainly you can. Viewing complete profiles requires subscription. Partial profile data, which includes location, age, "interested in", etc. can be viewed for free.
The one good thing is its verification. It does verify and confirm profiles for authentication.
Age, martial status, sexual orientation, physical appearances are some of the available search filters.
As far as interactions go, you can live-chat and add friends. They can also be added to a hotlist or you can become their "fans". Flirts and gifts can be sent to show interest.
You can find active members by clicking on the "new matches" or "who's online" tabs on the profile.
It does offer control over your privacy. You can hide your profile completely from searches and search-engines. Friend-requests can be enabled/disabled. Who sees your friends, personality type, membership info too can be set manually.
Best features:
Very huge and active database
Extensive social media-like features.
Privacy features
3. VictoriaMilan
Website: https://www.victoriamilan.com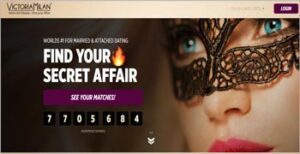 I've always felt VictoriaMilan is largely inspired from Ashley Madison. That's primarily because of the similarities in the features both the sites offer.
Victoria Milan too is primarily dedicated to "married dating". In fact, "secret affairs" is what it promotes and vouches for.
In terms of user-base, Victoria Milan has around 7.7 million members. It's still a very acceptable number, isn't it?
As for features, it too is pretty anonymous. No social logins supported or allowed. Your photos too can be hidden and edited with a "mask" for mystery and privacy. Access can be granted to only who you're comfortable with.
A fun and yet useful feature is its panic button. It changes the Victoria Milan page to a different, cute website instantly if you ever need to change your screen in a hurry.
A simpler and again useful feature is its auto-logout. Went for groceries and forgot to logout? Well, the website takes care of that.
Its "ChatExpire" feature lets you set a time after which the message is deleted forever from the platform.
As for profile authenticity, it claims all accounts have to go through a verification so as to avoid fake profiles. Personally, I've never come across any verification procedure yet.
Once you log in, you can search for users using filters like location, age, physical features, sex drive, turnons, diet, smoking habits and a lot more.
It even has a team to help you out with finding matches and staying safe.
The one problem I do have with it is its bots! After logging in, you get dozens of messages and you can only view them after "upgrading".
It does show the "who visited you" list for free! This is generally a paid feature on most other dating sites for married people.
You can "wink" at people. Who winked at you is only showed to paid users. Users can be added to a "favourites" list, and gifts can be sent as well.
The cheapest plans start at € 3,75/week. Do note that signing up on Victoria Milan also grants you access to its database of "RichMeetBeautiful" (a sugar daddy-like platform).
Best features:
7 million members.
ChatExpire
Panic button
Autlogout
Multiple databases
Free for women.
4. Seeking
Website: https://www.seeking.com/
Seeking can be categorized as a married but looking dating sites even though it's not exclusively a dating website for married people.
It's a sugar daddy /mommy website. In other words, it pairs people either based on age/looks and money or vice-versa. You must be either rich, or young/beautiful to use Seeking Arrangements.
Signing up is fast and easy, you don't even need to verify your e-mail. Ironically, you'd find the most legitimate and authentic profiles here. That's because the website has provisions for background verification (includes criminal check), photo verification, social media verification etc.
Profiles can be browsed for free. Interests, what they're looking for, education, income, smoking habits, children and other similar details are shown.
Seeking shows when each profile last visited you, or you visited them. A favourite list too can be maintained. You can also see who favourited you.  A green dot shows if and when a person is online.
The only reason you'd need a paid account is if you wish to message someone. It offers a lot of control over what's visible or hidden on your profile. E.g. you can select if you wish to let others know that you viewed them, your online status, join date etc.
You can even hide your profile completely from searches (this is a free feature). Seeking Arrangements also has an in-built video call feature! You can either completely disable the feature, or select who gets to call you.
Photos too can be shared with select individuals.
As for the payment plans, you can either subscribe to a monthly or a 90-day plan. It's priced at $99.99.
Best features:
Control over photos.
Video calls
Verified backgrounds/photos
Detailed profiles.
5. Gleeden
Website: https://www.gleeden.com/
Gleeden is without any doubt one of the best dating sites for married men (and women). It's open to singles as well. But primarily it's made for those who're married or in some kind of relationship.
Right off the bat, I loved the fact that Gleeden doesn't have any spammy, automated messages. You aren't forced to upgrade to a paid membership if you don't want to.
It has a member database of over 8126806+  registered users. It's extremely active as well, even new profiles get decent number of messages from real profiles.
It too is 100% free for women and its Facebook-like chat interface is one of my favourites.
There also are "crush alerts" and "favourites".  You get a list of people who added you to their crush list or favourites.
You can upload photos and either make them public or private. Virtual gifts too are available.  User profiles can be accessed for free. The profiles generally include the public album, location, occupation, body features, sexual orientations etc.
Finding active members is easy with its "new members" and "who's online" filters. There's also this neat "secret diary" feature. It's like a quick notepad, available only to you.
It also has this  advanced search panel with tons of filters. These include martial status, the kind of relationship you're looking for, children, occupation, income, location etc.
The profiles do offer quite the information. Personality, sexual preferences, interests, hobbies etc. are listed.
As for privacy, the messages on Gleeden automatically get deleted after a set period of time. The photos in the private album can only be accessed after requesting access.   It has a panic button which instantly redirects you to a different website.
It does require payment for most features if you're a male.
Best features:
No bots.
8million+ users
Simple, easy to use interface
Free for women
Detailed profiles
Mostly married/attached profiles
Self-deleting messages.
6. Illicit Encounters
Website: https://www.illicitencounters.com/
Illicit Encounters' says – Married dating UK. So yes, it's dating website for married people. In fact, the only relationship status options available are divorced/married/living together/separated or widowed.  So in a way, it's exclusively for married people and not for you if you're single.
The only problem is it's only for those living in UK, or Ireland. Although it doesn't "restrict" registrations for anyone.
After registration, it's mandatory to fill out the details which may be a bit tedious. An automated "profile generator" however does ease things out a bit.
Despite being limited to the UK, over 2000 messages on average are sent every hour! Each new profile is audited by an admin team manually. This does make sure that most, if not all profiles are real, serious and not fakes.
Its matchfinder lets you select an age-range, and a location. The lack of more filters sure is a disappointment. The interface too is on the basic side as compared to most other dating sites for married people.
The profiles are displayed for free. Photo privacy is pretty acceptable. They can be locked behind a "photo password" which is required in order to access the photos. Even profile photos can't be enlarged without the password.
There's a "Profile views" feature which shows who visited your profile recently. Gifts can be sent and people can be faviorated as well.
Finding active members is easy as well. There's this built-in "who's online" page. While it's mostly free, paid members do get extra features. And hey, privacy is taken care of. The credit card statements show "MC Online Tech Intservices" for the bill.
Best features:
Exclusive to married/divorced/widowed people.
Photo passwords.
Anonymous bills.
Manual verification for each profile.
7. HushAffair
Website: https://www.hushaffair.com/
If "hush affair" doesn't make it clear, it also has a clear tagline saying – "dating for married people".
It uses a text-based interface which does seem a tad-bit boring.  After signing up, its A.I shows you a few dozen matches.
Browsing profiles is free. All the profiles display age, location, interests, ethnicity, body features, smoking/drinking habits etc.
It  does feature verified profiles. In fact, as soon as you login, you get a message from the admin team for verification. It's not mandatory though.
It allows you to create wall posts, comment on posts made by others, and obviously, chat with others. Unfortunately, all of these are paid features. I mean, you sure can reply to chats sent by others but you can't initiate conversations from your end on free plans.
Users can be added as friends, followed or winked at. The paid accounts also are free from ads. Direct calls are another feature available but only for the paid accounts.
The cheapest upgrade is available for 7 days and costs $12.99/week.
Best features:
Verified profiles
Free replies to chat messages
Simple interface.
You may also like:
Conclusion- Which are the best dating sites for married people?
If I've to rank sites best dating for married sites, I'd place Ashley Madison at first, followed by Gleeden and then Victoria Milan.
Even when we ignore everything else, the ranking holds true simply based on their respective user-bases.
Basically, if you need the most professional and private partner-finding experience, Ashley Madison is for you. If you need a somewhat clean, more interactive environment, Gleeden helps you out.
Hey, why should you take my word for it? Go try Ashley Madison or any of the other dating sites for married people listed above and form your opinion!