The best dating apps for married adults, that's what you'll find on this piece. If you're married but looking for a date, hookup, or a relationship, this list is for you.
Note that I'm not encouraging "cheating" in a relationship. It's best for those couples who aren't happy with their current relationships and have open-ended agreements.
The one benefit on these apps is that your potential matches already know you're married, and are looking for an extra-martial affair.
Either way, the nature of the subject is pretty sensitive, isn't it? Keeping that in mind, I've only included those married dating apps which pay special attention to your privacy.
Note that "app" is a major keyword here. This means instead of just websites, I've made sure you get access to mobile applications for married adults!  Obviously, almost all the apps listed below can also be accessed via their websites.
The 7 Best Dating Apps For Married Adults in 2023
You can pick the best dating app for married couples in 2023 from this list:
1. Ashley Madison
Website: https://www.ashleymadison.com/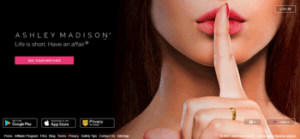 It's arguably the most well-established, feature-rich married dating app on the planet. Ashley Madison also probably is the platform with the maximum users, hence presenting a plethora of potential partners.
It's completely free for women which is another reason why it has such an impressive user database.
And hey, the primary goal of Ashley Madison is to make discreet, private affairs possible. That's probably exactly what you're looking for, isn't it?
For e.g. there's a self-destruct feature for messages, followed by the fact that it doesn't demand (or allow) social network signups.
It also provides utmost control over photos. You can add stickers or blur your photos. Moreover, you can choose who gets access to your photos on Ashley Madison.
Its "Travel buddy" or "Travelling partners" feature is one of the most amazing. You can find others headed for your destination before you actually leave. This gives you a chance to mix business with pleasure.
Even though some features require payment, it offers feature such as "Member Initiated Contact" and "Message Plus" which basically make the whole pricing pack pretty negligible if not completely free.
Finally, the matching algorithm. You do not have to manually search for matches. Based on the information you've entered, it automatically shows you the best matches closest to your location! Searching for members manually is possible as well.
If you're married but looking for someone to talk to, there's no better place to start than here. Signup and browsing member profiles is free even for males! Even the paid plans start at around $17.00. Get started, eh?
What you may like:
Free for women
Self-destructing messages
Priority mails
Travel buddies
Automated matching algorithm
You control who gets access to your photos.
What you may not like:
Very limited for men without a paid subscription.
Download links: Android, iOS
2. Victoria Milan
Website: https://www.victoriamilan.com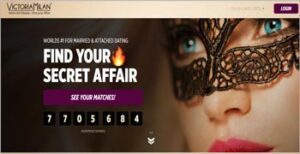 The tagline says- "WORLDS #1 FOR MARRIED & ATTACHED DATING". The ranking may be a marketing gimmick, but it does give you an idea of its purpose, doesn't it?
In fact, its primary USP is "discreet sex" more than just "discreet affair". So anonymity needs to be taken care of, right?
So, you can blur or add masks to your photos. As far as profile anonymity goes, it offers completely anonymous profiles without links to any social media channels. It doesn't even allow using real names even if you want to.
Moreover, there's this unique "panic button" which instantly changes the website to something else when clicked. There's also an auto logout feature!
Does your partner check your credit card statements? Well, the payments to Victoria Milan are shown so that the statement doesn't reflect what you're up to.
It also has a verification system in place which ensures most, if not all the profiles on the platform are owned by real people.
If you're a women, it's free for you. And finally, there does exist an automated matching algorithm which shows photos, age, and location of each user. Obviously manual searches using a country and age filter is possible.
As far as social features go, there's the chat system in addition to a "gifts" system.
The only aspect I personally didn't like was its bot or automated messages. My profile got spammed with these within minutes of creation.
What you may like:
Free for women
Self destructing messages
Sex-oriented
Some access offered without payments.
Control over photo access.
What you may not like:
3. Gleeden
Website:  https://www.gleeden.com
Gleeden markets itself as "extra-martial dating made by women". This naturally makes it best dating app for married women.
Being a women-initiated venture, it's obviously 100% free for women. In fact, it says it lets "women vet men" and that's quite the step for women empowerment, isn't it?
Unlike some semi-free dating apps for married adults, Gleeden truly is 100% free. Meaning, you get access to everything (including messages/who viewed me/ photos etc. )
Obviously photos can be locked in which case a request has to be sent for unlocking them.
It doesn't disappoint in terms of user-base either. A total of 8041524 members have already registered and you'll find someone around you despite how remote or modern your location is.
You'd be getting visitors within minutes of signing up, and the best part is there are no bots!
It allows users to fill in details about their interests, what they're looking for, and even sexual practices!
The automated matching algorithm is pretty good. Once you sign up, it shows the people closest to you (geographically) and these users generally have the same interests and goals as you.
The manual search filter is equally impressive. You can not only select the location or distance, but also martial status as well as "online status" of the member.
It does show the members who visit your profile, in real-time! This further leads more matching possibilities.
Even the interface is one of the cleanest of all the other best dating apps for married adults I've listed so far.
It even has this panic button which instantly changes the page to something else.
What you may like:
Made by, and free for women.
No bots
Impressive user-base
Clean interface
What you may not like:
No self-destruct messages.
4. Seeking Arrangement
Website: https://www.seeking.com
Seeking Arrangement has an in-built option which says "married but looking" under its "relationships" tab and that's a major reason why it's on this list.
Note that it's primarily and majorly a sugar daddy/baby website.  During signup, you actually have to choose if you wish to be a sugar daddy/mommy, or a sugar baby.
The general consensus is that rich old people become the sugar daddies/mommies while younger users sign up as sugar babies. Obviously, these roles can be reversed and there's no official requirement for any user's roles.
As far as user-base goes, each sugar daddy/mommy can easily have up to 4 sugar babies which is ample opportunity for both the types of users.
Also it's strictly against gold-digging. The people there are genuinely looking for relationships regardless of being or not being married which means the partners you find there should be worth your time.
It also lets users select exactly what they're seeking in a relationship. Options like "no strings attached", "open relationships", "friends with benefits", "vacations".
The search-filter is pretty advanced, you can even choose drinking habits and the exact body type which suits you. The matching algorithm is pretty advanced as well and takes into account location as well as interests.
Additionally, there's a "mentor" feature where people with experience offer insights on how to make this into a long-term thing (if you wish to).
Also, they're very strict about legitimacy. I've actually tried creating a fake account only to have my account permanently deleted a few days later.
And again, they do not allow using real names in the user profiles.
What you may like:
For sugar daddies/babies.
Has photo/background verification feature.
Video calls possible.
Automated matching algorithm.
What you may not like:
Messages require payments even for women.
Download links: Android
5. OkCupid
Website: https://www.okcupid.com
Now, OkCupid isn't exclusively a married dating app. Rather, it's an app which helps users find partners of all kinds.
However, it has a form which allows making your intentions clear. For example, if you select your martial status as "married, the other person will know your status.
It also has an incognito mode, which makes you invisible from everyone on the platform unless you like or message them first.
Signing up is free however a major downer is that you must verify your phone number before being able to access the platform.
The onboarding process is ultra-detailed and over a dozen questions need to be answered before a successful signup. However, this only  adds to a more accurate and better match.
Obviously there's an automated match algorithm. You can also search for matches manually using a distance, preference, interest and many other filters.
What you may like:
Detailed questions help find better matches.
In-built chat
Dating preferences
What you may not like:
Uses paywalls aggressively.
6. Illicit Encounters
Website: https://www.illicitencounters.com/
Illicit Encounters has a tagline that says –"The UK's leading married dating website". Yes, unfortunately, it's a website and no "apps" are available. Although if you have a smartphone, you can use it from your phone anyway, right?
The second throne by its side is that it's only available for the residents of U.K or Ireland.
Drawbacks aside, it has an arsenal of over 1,442,760 registered members despite being limited to just 2 regions! If you're from the U.K or Ireland, this is the best married but dating website for you.
At any time, you'd find around 50 or so online members, this is true both for males as well as females.
An impressive aspect is that all new registrations are manually vetted by the staff. This means no fake profiles!
Upon signing up, it automatically shows "who's online" and "new signups". Although you'd have to wait a few hours before your account is approved. Only then you can interact with members or even browse the website.
Signing up and access to most features is free both for males as well as females.
What you may like:
All profiles verified manually by the staff.
4million+ registered users.
Largely free.
What you may not like:
Restricted to U.K and Ireland folks.
7. Adult Friend Finder
Website: https://adultfriendfinder.com/
Adult Friend Finder is one of the best dating apps for married adults. In fact, it says it's "too hot" for Google Play Store and hence it can only be downloaded from the official Adult Friend Finder website.
Now the website looks and feels a lot like a social media website. You can "hotlist" people, or "flirt" with them, send gifts or tip and  become a fan.
Unfortunately, majority of the profiles on the website post nudes and body parts you may not be comfortable with.
That's my only complaint with the platform. It doesn't monitor the content that's posted resulting in a lot of unprofessional profiles and photos/videos popping up.
It does however have a "real ID verification" feature which minimizes the number of fake profiles on the platform.
Its social features are very advanced and it even allows public broadcasts. 500+ nude models can almost always be found broadcasting live.
Point being, it may not be the best place for "relationships" but does have a pretty impressive user-base when it comes to one-night stands or other similar needs.
It's mostly free, signups and browsing profiles doesn't cost a penny. You only pay when you wish to send messages, view photos, send gifts etc.
What you may like:
ID verification available.
Social media-like features
Very detailed search features.
What you may not like:
Excessively nude content.
You may also like:
Final words- best dating apps for married adults
If you've read this, and are still confused, I'd say just go with Ashley Madison. Its privacy and even other features are just the best.
If not Ashley Madison, I'd say Gleeden is an equally promising married dating app. Especially because it doesn't force you to pay and its matching algorithm did impress me. Also, no bots!
However, based on your other preferences, you may go with Seeking if you wish to be a sugar daddy/baby. Victoria Milan is for you if "sex" is your primary goal rather than a long-term arrangement.
I'd sign off this  piece saying let's not get into the moral debate. Just pick one of the dating apps for married adults if your religion or conscience permits it, and go unlock your dreams.