Searching for dating sites for married men? What are the priorities? Privacy I'd say, wouldn't you agree?
Keeping that in mind, I've compiled this list of the best married men dating sites.
Not just privacy, I've also made sure I only include the professional, serious websites. In other words, less scammers and time-wasters. (Sorry I can't completely rule out the possibility of those existing just about everywhere).
Let's find you someone to snuggle up to then?
The 5 Best dating sites for married men
These websites totally have a "married user" priority or preference. However, they have their own speciality as well. So, here are the best places to meet married women discreetly on the web:
1. Ashley Madison
Website : https://www.ashleymadison.com/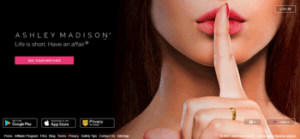 Primary features:
Oldest married dating site- 2001
Instant messaging
70million+ registered users
Photo lock
Anonymous bills (for your credit card statement)
100% free for women
Easy to use UI
Masked/private Mobile apps
This is literally "the first married dating website" on the planet. It was launched in 2001 which means it's probably older than some of you reading this! This also means its 70million+ registered users are no surprise!
Because it was made specially for married affairs, its probably the most privacy-respecting website which let you meet married women online. It pays a lot of attention to the privacy and confidentiality of its users.
It also has the most professional interface you'd find on this entire list. Even without going to each individual profile, you see their name, age and location.
Both men and women can sign up 100% free. For women however, it's forever and entirely free!
Let's talk of privacy features? Uploading profile photos isn't mandatory. When doing, you can use a number of filters such as masks and blurs to hide your identity.
Obviously, albums must exist, right? However, it lets you lock your albums. Others must request access in order to view your private photos. Optionally, you can also use a public album which is open for everyone as well.
Profiles will tell you the person's interests, goals, physical features etc. It does show you who viewed you so you can contact them later if you'd like.
The search filters include age, location, height, body type, requirements/goals (cyber affair/ erotic chat/ long term/ short term relationship etc.).
Obviously live and instant chats are possible.
Profiles can be "highlighted" (for a price) so they're shown to users on their dashboards. You can also highlight your messages so you get all of the attention.
Hey, you're married. You can't have your spouse seeking "AshleyMadison.com" on your credit card bill, can you? The site takes care of that! Any and all charges from Ashley Madison are actually billed under a different name with no dating angle whatsoever.
You can also download its Android and iOS! The best part? Even these mobile apps are "masked" so your partner has no idea what it is even if they see the app!
2. Gleeden
Website: https://www.gleeden.com/
Primary features:
Free for women
Filters centred around "married" individuals
Instant messaging
Very professional and easy to use UI
Self-deleting texts
Extremely detailed profiles
Public/private photos
Real-time visitor information
One-click exit.
Gleeden gained its popularity because it's an platform made and owned by women! It's on this list because its tagline literally says- "The extra-martial dating app made by women". So, it totally is a dating site for married men (and women).
In fact, one of its search filters is "martial status". This allows you to search specifically for married individuals. Even has a "children" filter. Other filters include "type of relationship sought", "income", "connection status" etc.
Gleeden has probably the most clean, professional and appealing UI of most other married dating websites on this list.
User profiles are extremely detailed. The profile pictures rotate every few seconds so you can see more of the person. There's an intro section, a lot of personal info (age/sex/ eyes/hair/income/occupation/ height), sexual preference, type of relationship being desired, hobbies and a lot more!
There are two album types. The public album is open for everyone. The private albums can only be accessed after obtaining viewing permission from the owner.
As for communication, there's a instant-chat feature. The messages are automatically deleted after each session, privacy right?
People can favourite you or "crush" (in a romantic way) you.
It has a massive user database. Finding active users is easy, in fact, it has a dedicated page called "members online". It even shows you who visits your profile, in real-time!
It's totally free for women. Signing up is free for men as well, they only pay for using certain features.
Finally, a  cool, fun and "helpful" feature? There's an emergency exit button at the top-left. Wifey walk in on you? A single click and you're taken to Google!
3. Victoria Milan
Website: https://www.victoriamilan.com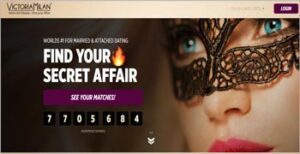 Primary features:
Designed for married/attached individuals
100% free for women
Very detailed profiles
Public/private albums
Instant messaging
Panic button
"Ask information" feature
Does Victoria Milan qualify as one of these married men dating websites? Well, it does claim to be "World's #1  platform for married and attached dating". At the least, its user-base is exactly what you're looking for.
It too is designed keeping professionalism in mind. It's very easy to use and work with in general.
Now, it doesn't have any filters such as "martial status" or "children" which I think should exist. However, dozens of other filters do exist such as interests, relationship type, looks, smoking habits, personality, piercings etc. All  of these make finding the right partner pretty easy.
Obviously, you can also search for people using a location as well as age filter.
Profiles sure share a bit of information. These include a profile photo, location, distance from you, physical features, relationship status etc. Profile photos can sure be masked and blurred if you'd like that. The last online time of the person is displayed as well.
One unique feature is its "Ask" button. If a person hasn't share a piece of information publicly (e.g. drinking habits, education, salary etc.) you can "ask" them. If it's shared, the information becomes visible to you.
Instant messaging is possible as well although it's a paid feature. Without paying, you can still favourite people and send them wink at them which notifies them of your interest.
It also shows who visits your profile even for free users. Both public and private albums exist. Only paid members can request access to private photos.  The panic button exists as well.
It too, alike most other dating websites for married men is 100% free for women. Men too get access to most features for free, paying however grants full access. Paid plans start at a EUR 19.00/month. The "Panic" button exists as well.
4. Seeking
Website: https://www.seeking.com
Primary features:
Sugar daddy/mommy website
Background verification
Identity/photo verification
Advanced search filters
Android app
Seeking (Arrangements) is arguably one of the most unique dating sites for married men. So, it's men to connect two very specific types of people- The rich & the beautiful/handsome. In other words, a sugar daddy/mommy website.
You can either be a rich male looking for a beautiful partner or vice-versa. Now, considering you're a married man, if you're financially secure, Seeking is for you.
It's completely free to sign up. Profiles aren't as informative as on Ashley Madison or Gleeden but they're acceptable. You'll get a few photos, personal traits, physical features, education etc.
The net worth too is mentioned. The best part? You can request for a background verification. This makes sure that it's not a random person claiming to be a millionaire online.
It even shows when a profile is connected to Instagram/Facebook and LinkedIn accounts.
You can favourite each other to show interest. Each profile will show you when that profile last visited you.
Do note that it requires you complete email verification and basic info in order to be discoverable by others.
An instant messaging feature does exist. The search filters are impressive. You can directly search for ID verified and background verified profiles.
More common fitters include body type, smoking/drinking habits, ethnicity, age, no. of children etc.
A few other filters are available exclusively for premium users. These include net worth, annual income, body type etc.
An Android app version does exist in case you're more of a mobile person.
5. HeatedAffairs
Website: https://www.heatedaffairs.com
Primary features:
111,000,932 + members
Many "social" features (groups/polls etc.)
Live broadcasts
Almost unusable without paying
HeatedAffairs, as the name suggests, is a cheating website. In fact, it claims to be the "biggest" cheating website on the planet. It's a part of the Adult Friend Finder network but built keeping "married dating" in mind.
The site has over 111,000,932+ registered users. The interface is exactly like what you see on Adult Friend Finder.
You can hotlist people, send "flirts", gifts and tips. Once you login, you'll see about a dozen profiles which are online. The "who's online" tab is what's shown by default and can be used to find active users.
You can always find hundreds of users broadcasting live. There's a feed which is used  to post photos/videos.
A verification feature does exist. Verified profiles have a blue tick next to the username.
It's not a free website. I mean, signing up is free. However, you can't check profiles, send messages, join broadcasts or do much of anything else without paying. This is why I've placed it a bit lower on this list of best dating sites for married men.
You can still get a profile's location, interests, age and thumbnail-view photos by hovering over them.
It even has groups and polls which increases its "social" aspect by a lot.
Final words- Which is the best of these dating sites for married men?
Ashley Madison is the best in terms of privacy and security.
If privacy isn't your priority (and a divorce is something you aren't afraid of), Gleeden is totally worth a peek.
Victoria Milan is very similar to Ashley Madison except for a smaller user-base and probably fewer privacy features.
Seeking will be helpful specifically for those of you who're financially comfortable, or wish to be sugar babies.
HeatedAfffairs is more like a desperate, last option. I'd not say it's the most professional choice, however, it still qualifies as one of these married men dating websites.
I'll sign off right here. My advise? Go sign up at Ashley Madison, I've never seen someone regret that and it's free, isn't it?