Ashley Madison review 2023: In this in-depth review of Ashley Madison I'll discuss everything that makes or breaks Ashley Madison.
If you've got questions about Ashley Madison's legitimacy, privacy, credits or anything else, this is for you.
So, if you're looking for a date despite being in some kind of relationship, Ashley Madison is made just for you.
Let's not beat around the bush and get started.
What is Ashley Madison?
It is world's first "extra-marital affair site". In other words, it's a dating site primarily for married/engaged or committed individuals looking for something new.
It has one of the most open-minded user-bases on the planet. Even if you've got a wife/girlfriend/fiancé, Ashley Madison will help you find a new affair.
This doesn't mean it's not for single individuals. A large no. of users on Ashley Madison are single.
It's just that every single user on Ashley Madison welcomes you regardless of your current relationship status.
It has over 80 million registered users!
Due to its peculiar nature and user-base, Ashley Madison is very big on user-privacy and secrecy.  It has direct features which prevent your identity from getting leaked or shared with the other members unless you explicitly want to.
Registration
Registration is the first step you must go through to join Ashley Madison. It doesn't ask for many personal details when signing up.
You're asked to enter: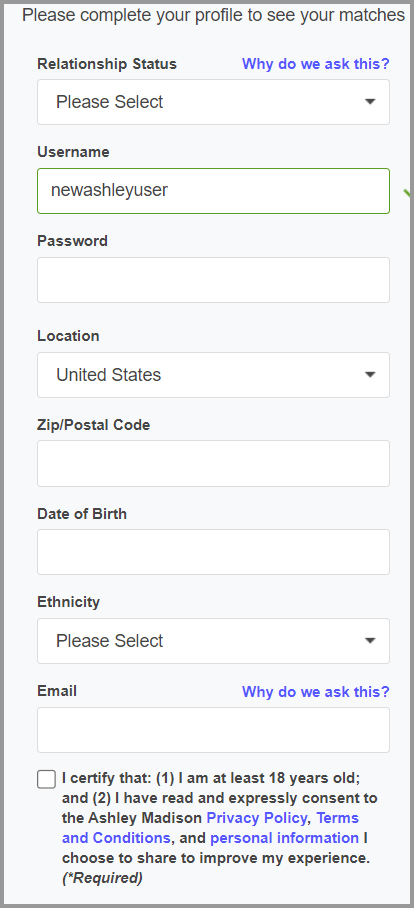 An username
Location
Date of birth
Ethnicity
Limits
Weight
Body type
Postal code
And e-mail.
None of that's "personally identifiable" to you, is it? It's only information which can be used to find better matches for you.
Ashley Madison User-Interface
This is what you see as soon as you login to your Ashley Madison account: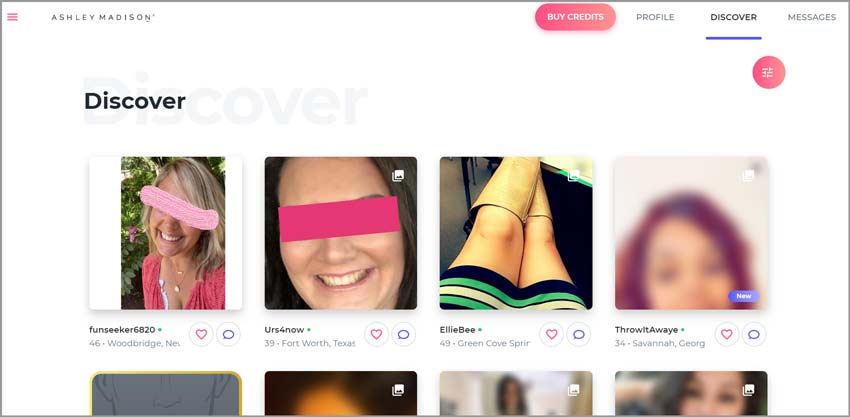 Ashley shows you the most relevant and geographically closer profiles to you. You can click on any profile to start browsing it.
You can go to your profile, messages or buy credits using the options on the top-right.
On the top-left you'd see the three horizontal lines. Clicking on these brings up the menu and you can go to your settings, favorites, and check who viewed you.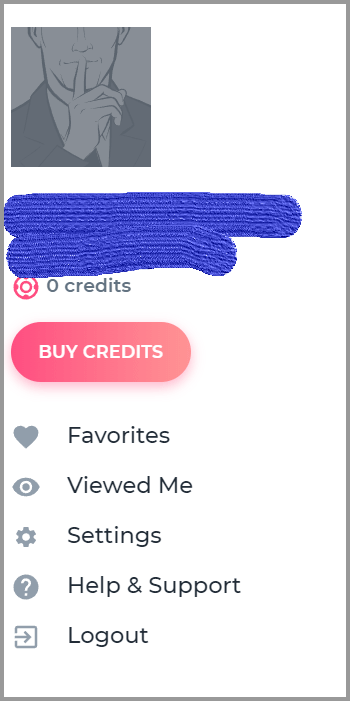 When you visit a profile, this is what it generally looks like:
So, there's the age, location, photos, an "about me" section. If you scroll down most profiles will also have a list of physical features (body type/weight/height etc.). Some profiles also have a long list of interests/desires which further helps you pick the right partner.
In my opinion, all of this is pretty straight-forward and easy to understand, isn't it?
Photo privacy and private albums
Uploading a profile picture isn't mandatory on Ashley Madison. However, if you do choose to upload a profile photo, AM lets you add a lot of privacy to it.
You can use these to give viewers an idea of how you look, without actually revealing your full identity.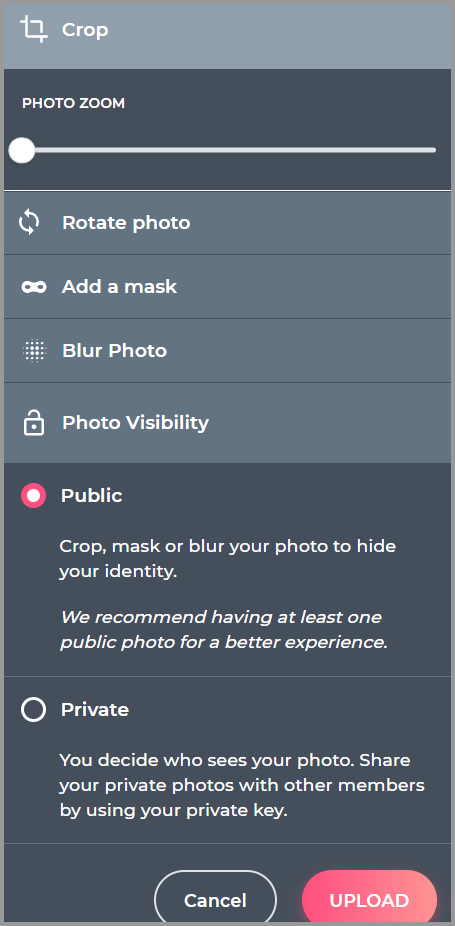 For starters, you can "blur" your photo. You choose the intensity/degree of the blur. Then, it has a few "masks" you can add to your photos.  These can also be done for your primary profile photo.
You can also choose to add photos to your "Private Album". Photos in this album aren't shown to those who simply visit your profile. Rather, they must "request access" to these.
These photos only become visible to the person who was granted access by you.
You can also set your private album to be "auto exchanged". When that's enabled, your private album is automatically unlocked for anyone who has unlocked their private album for you.
Other security & privacy features
On top of photo privacy, there are a few other features that ensure your privacy and security.
For starters, you can enable "2-factor authentication". You can enable this using a text-message or authentication app. In both the cases, you'll receive an OTP each time you try to login to your Ashley Madison account. This makes sure your account isn't compromised even if your password is leaked.
You can also set security questions for your profile. This can help you recover your account.
Even on your credit card statement, you'll never see "Ashley Madison" mentioned. All payments to Ashley Madison are billed to a different, non-recognizable name.
So, if you ever asked "is Ashley Madison safe to use now"? The answer is- yes.
Advanced search filters
If you click on the "Discover" button at the top-right, Ashley Madison shows you thousands of profiles you may like.
But, what if you wish to search for users manually? You can totally do that on Ashley Madison. It has one of the most advanced search filters I've ever seen!
As the screenshot shows, you can search for users based on:
Age range (a minimum & maximum age preference)
Location: helps you find people physically close to you.
Last login time of the user (anytime/24 hours/48 hours): helps avoid dead accounts.
Relationship status
Photo availability: You can choose to only view profiles with private and/or public photos.
Physical features: You can also specify specific body types and height.
Languages: Helps you pick people who speak/understand specific languages.
Limits: this lets you choose what kind of relationship you're looking for (short term/long term/cyber chat etc.).
Again, these are pretty specific and may help you find exactly what you're looking for, don't you agree?
Check who viewed you (free)
I've used quite a few dating sites by now. Almost all of them charge to show me who "viewed" my profile. That's not the case with Ashley Madison.
There's a clear option labeled "viewed me" on your menu (three horizontal lines at the top-left). It always shows you all the profiles who visited you!
Ashley Madison support
Ashley Madison earlier used to provide support via both call as well as e-mail. However, after the recent COVID-19 outbreak, they had to make a few changes.
You can now contact their support over e-mail. From within your account, you can simply go to the "help & support" option to send the e-mail. Simply fill the form and the e-mail gets delivered to them. Replies are sent to your registered e-mail ID.
Obviously, I'd have loved if they provided support over call as well. But their e-mail response time is less than 24 hours so I'm not complaining.
[Hidden] Ashley Madison mobile app
You don't need a "computer" to use Ashley Madison. It has dedicated apps for both Android, as well as iOS.
Now, the mobile app itself is pretty well-hidden. On your phone, it looks just like a "black square".  No branding or logos whatsoever. Even if someone checks your phone, they won't know you've got Ashley Madison installed unless they know exactly what the app looks like.
The interface is extremely simple and easy to use. It's so secretive and private that it doesn't even allow screenshots. You can always download Ashley Madison on your phone to see what it feels like.
Ashley Madison pricing plans
Ashley Madison uses a credit-based system. You purchase credits and then use those credits to use Ashley Madison. (Refer to the FAQ below to understand what credits are and how they work on Ashley Madison).
There are three packages you can go with:
Elite: 1000 credits- costs about $0.086/credit*
Classis: 500 credits- about $0.12/credit*
Basic: 100 credits- about $0.18/credit*
Ashley Madison preserves your privacy even during payments. Apart from the masked card statement, it also lets you pay using "gift cards"!
*Prices may very slightly differ based on your local currency.
Unfortunately, there's no Ashley Madison free trial. However, you do get 30-day free trial of "Member Initiated Contact"** and "Message Plus"** features when buying a subscription.
**Refer to the FAQ below for more information.
Frequently Asked Questions
I'm sure you've got a few questions by now. Allow me to answer them before I sign off this Ashley Madison review:.
#1. How does Ashley Madison work?
Ashley Madison is a simple dating website. It lets you create a profile and then shows you profiles of other users. The profiles it shows you are always close to you geographically. It also takes into account the interests you entered when signing up and then shows the most relevant profiles. You can then send messages to the people you find interesting and see where things go from there. You can also use search filters on the site to search for more specific profiles. It's 100% free for you if you're a woman. Men need to buy "credits" to initiate contact with female members.
#2. Is Ashley Madison legit?
Ashley Madison is 100% legit. The platform itself has no reason to not be legit. Of course, I've seen a large number of scammers and catfishers on the website but that's not Ashley Madison's fault. Every dating or social network has scam/fake users. However, as far as a "platform which connects two individuals" go, Ashley Madison is 100% legit. I personally know 3 people (one of them above 70) who found his now 3-year partner on AM.
#3. Is Ashley Madison safe?
Yes, Ashley Madison is 100% safe. Your personal & financial information are more valuable to Ashley Madison hidden, than whatever they may make by sharing them with a third-party. This is primarily because the entire premise of a site like Ashley Madison rests with them being private and secretive of their users' identity.
Even on your end, Ashley Madison offers all those features (masks/album keys/masked apps etc.) which keep you safe.
#4. Is Ashley Madison a scam?
No. Ashley Madison being one of the oldest married dating sites on the planet is certainly not a scam. You may find dozens of profiles on the platform which may be scams, the platform by itself is not a scam.
#5. What is Ashley Madison cost per message?
Ashley Madison charges 8credits each time you initiate contact. If you send a "Priority message" and highlight it for your receiver, you're charged 13 credits. To open a "collect message" you pay 5 credits.
#6. Why is Ashley Madison so expensive?
Ashley Madison is not expensive when compared to any other similar sites (Adult Friend Finder, Seeking.com, ALT.com etc.) in the industry. It charges users for its 80M+ user-base, privacy features and everything else that it provides.
#7. Do you have to pay for Ashley Madison?
No. Ashley Madison is 100% free if you're a woman. Even for males, signing up and browsing profiles is free. You only pay for certain features and only if you're a male.
#8. Is Ashley Madison worth the money?
Yes. If you're looking for a partner, either sexual and/or romantic, despite being in some kind of relationship, Ashley Madison is worth the money for you.
#9. Is Ashley Madison app free?
Yes. Downloading the app is 100% free on both Android and iOS devices. However, there's a one-time charge you need to pay if you'd like mobile access.
#10. What is a collect message on Ashley Madison?
Collect messages are messages that you can read after spending credits to read them. These are a good way to keep spammers and catfishers away.
#11. Is Ashley Madison free for women?
Yes. Ashley Madison is 100% free for women seeking males. Do note that if you're a woman and are seeking other women, you're still required to pay.
#12. How do credits work on Ashley Madison?
Credits are basically the primary currency on Ashley Madison. You use credits when  initiating contact with a member. Replying to messages once initial contact has been established is free. You can also use credits to "highlight" your messages or to open "collect" messages.
Ashley Madison has two additional features –"Member Initiated Contact (MIC)" and "Message Plus". They make your use of credits much more affordable
MIC lets you reply to messages for free if and when they're initiated by a female. Even without any credits, you can still keep communicating with members you've previously had a conversation with.
"Message Plus" too helps you save credits by letting you reply to "collect messages" for free.  You can also keep communicating with people you've previously talked to for free.
#13. What does Ashley Madison charge look like on statement?
As stated earlier in this Ashley Madison review, the company is big on user privacy. Any payments to Ashley Madison are never billed to "Ashley Madison" on your card statement. Rather, they appear to be from "AM 000 800 100 4054". Do note that the numbers may be different, however, it'll always be in this format.  Unless your partner too is using Ashley Madison, chances of them finding out about your purchase are practically non-existent.
#14. Is Ashley Madison only for affairs?
No. Ashley Madison is very often used by singles to search for their new partners as well. So, you do not have to have an "affair" to use Ashley Madison.
#15. What does the green dot mean on Ashley Madison?
As is the case on almost any other social network, the green dot shows that the person is now online. Your chances of getting a faster reply are higher when someone's online.
#16. What does the heart mean on Ashley Madison?
Hearts are basically "favourites" on Ashley Madison. When you "heart" someone, they're added to your favourites list. This is basically a way of "saving" profiles. You can always visit your "favourites" page to view all the profiles you've "hearted" so far.
#17. What does Priority mean on Ashley Madison?
There are two types of "Priority" benefits on Ashley Madison. The "Priority Man" feature highlights your profile in search results. This obviously gets you more attention. The other priority feature is called "Priority Mail". This highlights your messages in the receiver's inbox.  It too increases your chances of getting replies/matches.
Ashley Madison review- Final verdict
So, is Ashley Madison the best affair site on the planet? In my opinion, yes.  It probably has the biggest user-base and the community doesn't judge you.
The privacy features ensure that your identity remains a secret unless you explicitly want to share it with others. Similarly, your use of Ashley Madison too is kept secret on your mobile as well as card statements.
In a nutshell, I'd rate Ashley Madison a 5/5 on all fronts.