Seeking Arrangement Reviews: Is this the best sugar dating website? The company says yes. Well, I say yes too but I wouldn't ask you to just "trust me bro".
Throughout this review, I'll walk you through all the primary features Seeking brings with itself.
Once you've gone through the piece, you're free to form your own opinion about the platform, aren't you?
Before you rush to find some other Seeking Arrangement reviews, let's just get started here?
What is Seeking Arrangements?
Seeking Arrangement is now known as "Seeking". They removed the "arrangement" which in my opinion was a wise decision.
It started out primarily to connect sugar daddies/mommies to sugar babies and vice-versa.
In other words, you can be a gold-digger (hey, no judgments here, everyone loves cash) if you've got the looks. Or, the sugar daddy/mommy if you've got the money.
How does Seeking Arrangements work?
When signing up, you're asked to select who you're searching for.  You can choose between "successful members" or "attractive members".
Successful members are basically the sugar daddies/mommies. "Attractive members" are those who're seeking these sugar daddies/mommies and offer looks/emotions/care in return.
Do note that Seeking is also equally welcoming if you just need a partner. It may be that you do not care about money, or looks. All you need is a partner who matches your vibes? That's fine, Seeking has millions of members who're searching for the exact same thing.
In fact, Seeking isn't just for "singles". It has filters and options which make it perfect even for committed/married individuals.
As of today, the platform has over 24 Million (estimated) registered users. I'd say that's a decent number, wouldn't you?
Registration process
Registering on Seeking Arrangement is 100% free and open to everyone.
Once you fill the sign up form, you're taken to your account. Yes, e-mail verification isn't mandatory and can be completed later. A popup asks you to fill in additional information when you first login.
This includes a profile picture, location, height, children, smoking/drinking habits, body type, ethnicity etc.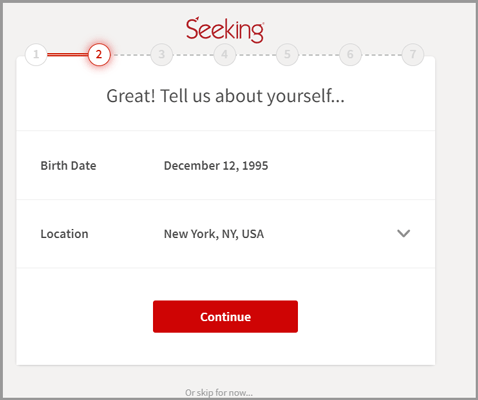 All of this is optional and can be skipped. However, filling this in is recommended, helps you find better and faster matches.
Once you either fill in or skip these popups, you're in! I'd advise verifying your e-mail next for unrestricted access.
User-Interface
When you first login to your Seeking Arrangement profile, this is what you'd see:
At the very top, you see 3 simple options:
Interests
Messages
And upgrade.
Below that you see a number of profiles and their "vibes" (stories).
Finally, the rest of the screen shows profiles. These are profiles that are generally close to your location and match some or all of your interests/preferences.
My point with this section is, Seeking Arrangement is easy to understand, isn't it?
Identity-verified profiles
This is both the most impressive, and the most disappointing feature on Seeking Arrangement.
It's impressive because SA lets you get "identity verified". You then get a "verified" badge. This tells everyone on SA that you're legit and not a fake profile. This obviously massively increases your chances of getting matches.
You'll need to upload a govt.-issued ID card, along with a selfie.
However, it's not "free". Getting verified costs $4.99. So you pay, to get yourself verified. I've seen quite a few dating platforms which offer completely free verifications.
Optional background checks
This is probably the only time I'm seeing a dating site offer this. Seeking Arrangement has this optional background check feature. You can request people to get their background verified.
If the user accepts, he/she is verified against the national database of their respective country. This is immensely helpful as sex offenders, criminals or other objectionable users can then be easily identified.
Do note that you can not verify a user's background. They must accept your verification request and proceed on their own.
Moreover, background checks aren't free and in my experience majority of users decline such requests.
Photo/College/ Instagram/LinkedIn/Facebook verification
Seeking Arrangement is big on verifications.
In addition to the identity & background checks mentioned above, Seeking Arrangement also has 5 other types of verification: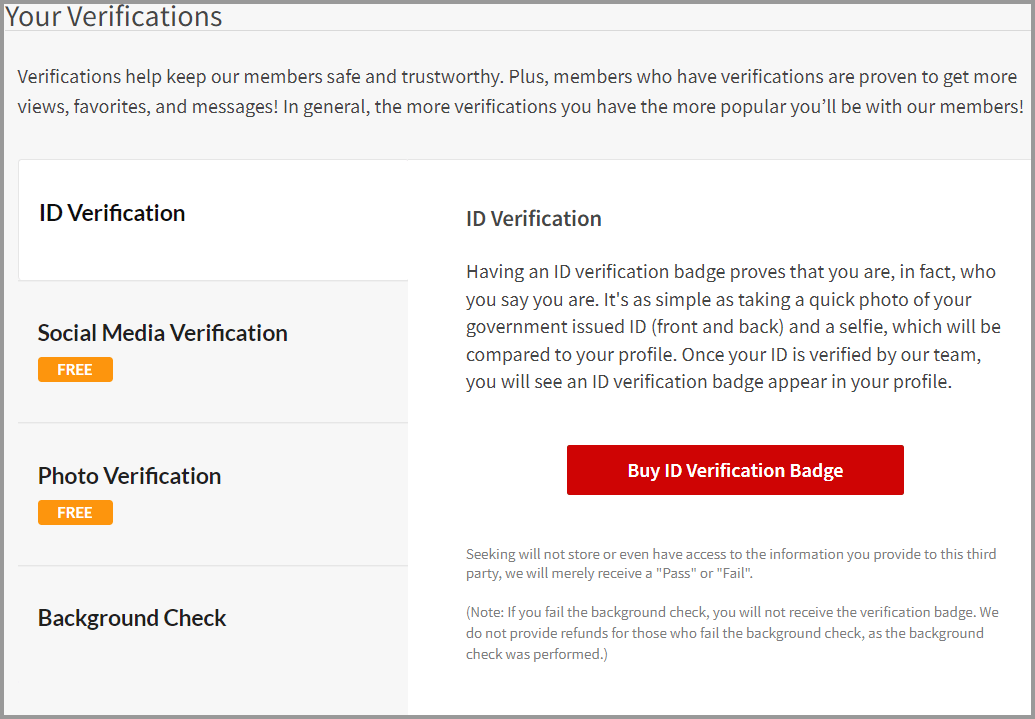 Photo verification:

You're shown an example pose. You're then required to snap a photo of yourself in that pose. If successful, you get a "photo verified" badge on your profile. This is free.

Facebook/Instagram/LinkedIn verification:

This only requires you to link these social media accounts to your SA profile. You then get a badge which lets others know that you're verified. However, links/usernames of your social media accounts, or posts to/from them are never shared with any member on SA.

College verification:

You can even get your college verified so users know you did indeed go to that college.
Search filters
Seeking has over 24 million users. Searching for the right partner manually would need you to be immortal.
Fortunately, Seeking Arrangement offers very specific & detailed search filters. You can use these to find exactly the kind of person you're seeking.
Some of these filters include:
Location:

You can enter an exact location, or a "distance-range" from your location.

ID Verified profiles:

Best filter to ensure you only get legitimate users and not fake profiles.

Background checked:

This only shows you those profiles which have their backgrounds verified.

Online now:

Best for finding active and online members.

Viewed me:

These are users who already clicked on your profile once and may increase your chances with them.

Photos:

If you select this, only profiles which have uploaded photos are shown.

Show members seeking:

This is perfect if you wish to only find members with specific interests/preferences. You need to select the exact interests you're interested in.

Don't show members seeking:

This is basically an inverse interest feature. If you select this, you can select interests and profiles containing those interests will not be shown.

Profile text:

This is an unique filter. You can select specific text that people may have written in their profiles to find them! Not just in the username, but anywhere (bio/description etc.).
Many simpler filters exist as well:
Body type
Age
Ethnicity
Height
Hair color
Smoking/drinking habits
Relationship status
Education
Children
Language
Point is, when you use these correctly, you'll find exactly the person you're looking for.
Physical gifts
This is another unique feature that I haven't seen many dating sites offer. So, when you go to someone's profile on SA, you can choose to "gift" them.
On most other dating sites, these gifts are digital. They're generally stickers, credits, emoticons etc.
On Seeking Arrangement however, they're physical. Meaning, you get to first choose a type of gift and then the exact gift you'd like to present.
Options include watches, fragrances, clothes, books, shoes, sunglasses and of course, e-gifts.
Seeking Arrangement then ships the gift to the user without revealing his/her address or real identity to you.
They do not get any personal information about you either. Only your username, and any custom message you choose is shown to them.
If by any chance your gift is rejected, Seeking offers a 100% full refund in credits that you can use towards your next gift.
Hidden payments and card statements
You wouldn't want a statement from Seeking Arrangement on your card and they know it. This is especially true if you've got a partner and wouldn't like getting caught using a sugar dating website.
Even if you're single, you may need to submit your card statement for jobs, loans, credit verification etc. Point is, you'd like your use of Seeking Arrangement to be hidden, wouldn't you?
Fortunately, none of your transactions to SA indicate or contain "Seeking Arrangement" anywhere.
They're rather billed to one of the following receivers:
W8 TECH LIMITED 775-450-4856 US
com*SA
W8TECH_*SA
or HELP@W8TECH.COM SA
or W8 Tech limited.
This makes your payments completely anonymous. No one would see a payment to W8 and think "Sugar dating", unless they've made payments to SA themselves!
Very detailed profiles
What do you see when you click on a profile? I pay special attention to this as it helps me decide my compatibility with a user.
Yes, Seeking Arrangement lets you view entire profiles 100% free. Paid membership isn't required.
Here's what SA shows for its profiles: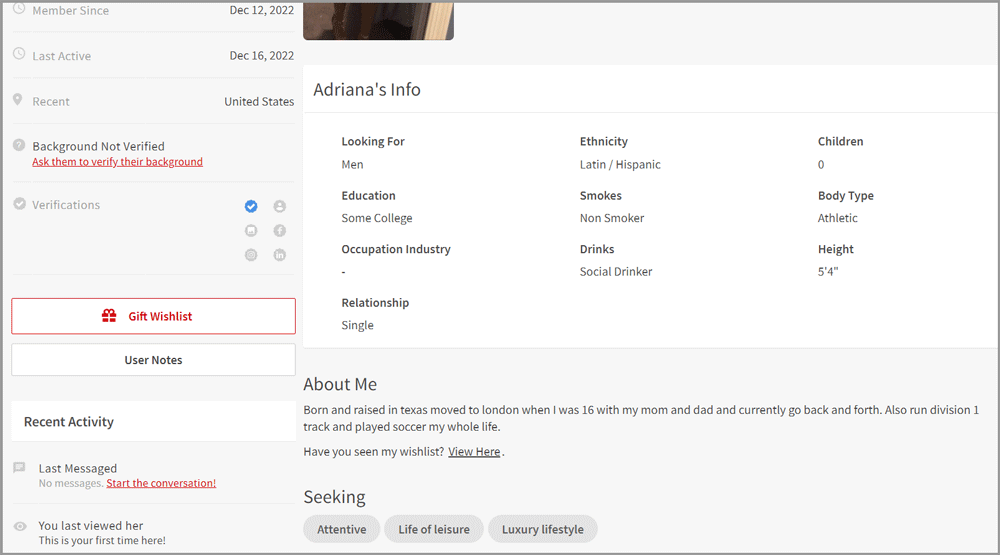 Age
Gender
Location
Online indicator (if the person is online)
Public photos
Joining date
Last active date
Background verification status
Completed verifications (Instagram/ LinkedIn/photo etc.)
Basic info & habits (smoking/drinking habits, body type, interests etc.)
"About me" section
Seeking: Shows what the person is primarily looking for.
Mutual connection: On the left, SA shows when you viewed the profile last and vice-versa. It also shows if you or the profile has faviorated each other.
Control over displayed data
We just discussed what a Seeking Arrangement profile shows to its visitors. However, you do get to control what information is shared or displayed on your profile.
You can choose to hide/display the following on your profile:
Joining date
Last online date
Online status
Your "view" on someone's profile
And, you faviorating someone.
Do note that some of these options are only available to paid members.
Security features
Seeking Arrangement knows unauthorized access to your profile may be damaging to you.
To ensure that doesn't happen, it offers two primary security features.
You can start with 2-FA (2-factor authentication). It's a simple OTP-based 2-FA where a new device must enter your password AND an OTP that's sent to your phone. This ensures you don't lose your account even if your password is leaked.
In case you did lose your account, there's this other "security question" feature. This will let you set a question and its answer for your profile. If you lose access or can't remember your password, this lets you reset your password.
Public & private albums
This is pretty basic and expected.
On SA, you can either add photos to your public album, or private album. Photos in the public album are displayed to anyone who visits your profile.
Those in the private album are hidden. Each user must "request" access individually. Only those users who you grant access can view these photos.
Seeking Arrangement pricing plans
Seeking Arrangement has a pretty unique approach towards its pricing plans.
For starters, it's free for women, and sugar babies! (No, do not try lying on your profile to get free access).
As for sugar daddies/mommies or males in general, there are 3 paid plans:
30 days Premium:

$109.00/month

90 days Premium:

$289.99 for 3 months ($96.66/month).

30 days Diamond:

$274.99/month.
The Premium membership lets you send messages, boost profile, hide details on your profile and so on. You also get the "premium" badge so others know you've paid for the service and are serious.
The Diamond membership is best for sugar daddies/mommies. It shows the "Diamond" badge on your profile, members know you're loaded. You're also featured on top when a sugar baby searches for users. Because this is rare, you're almost bound to get faster and more frequent replies.
Both the paid memberships let you request access to private photos.
How to make a good Seeking Arrangement profile?
Making a good Seeking Arrangement profile doesn't require any special skills. In fact, it gives you everything when you start, you just have to follow the process.
Start with putting up a profile picture. You may want to skip it, I'd advise against it even if you're a sugar daddy/mommy.
Then, remember SA asking for your body type, ethnicity, hair colour and other such information? Fill all of that in.
Yes, it needs longer than just "skipping" it. But, filling this in makes your profile detailed. Users can then find you more easily. Moreover, it also tells the other person that you're serious.
Also, be as accurate as possible with these details. Meaning, when you're seeking just sex, or just money, select those options. Do not click on interests or preferences just because something is more socially acceptable or sounds good.
Most importantly, do not fake your "net income". You may get more messages but hardly any action.
How to change profile picture on Seeking Arrangement?
You may be asking how to add profile picture on Seeking Arrangement.
If you haven't signed up yet, just know that Seeking asks you to upload a profile picture as soon as you login for the first time. This is optional and not mandatory.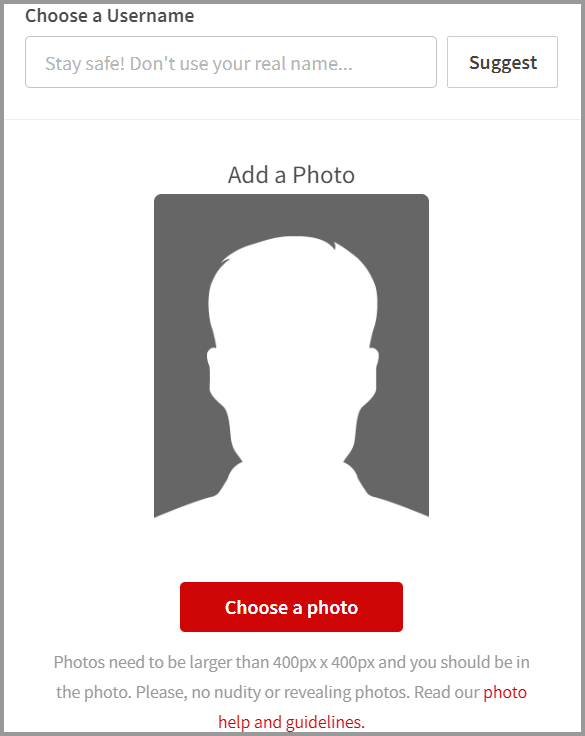 If you need to "change" your profile picture, that's easy as well. "Changing" means you're a registered member and wish to change your profile picture that you've already uploaded to Seeking.
How to change location on Seeking Arrangement?
It's pretty easy to change location on Seeking Arrangement.
You simply go to your profile and click "edit".
A popup would show up. Simply edit your "primary location" here.
How to start a conversation on Seeking  Arrangement?
The "technical" answer is, you go to someone's profile and type a message. Yes, the message-box is shown right there on the profile.
The "social" answer is, be honest, direct and transparent. Also, do not type lengthy messages, not at first!
Simply let the person know you're interested and ask them to visit your profile. Make sure you've got photos on your profile along with as much additional data filled in as possible.
In my Seeking Arrangement profile what should I mention?
That's a pretty legitimate question.
For starters, fill in everything that SA asks you by default. This includes income, interests, age, body type etc.
On top of that, your "about me" section is of prime importance. Use this to "talk" to the incoming users.
Mention why you're on SA, what are your expectations, interests, preferences and so on.
The above profile is pretty good. It's short and yet lets me know exactly what the user is asking for.
How long does it take for Seeking Arrangement to approve your profile?
It takes anywhere between 24-48 hours. Even when you're "in-review" period, you can use the platform freely.
However, if you're a paid member you can skip this approval entirely.
Is Seeking Arrangements safe?
This totally is an important question you should be asking on any of these Seeking Arrangement reviews.
Yes, it's safe in the sense that the website doesn't share your data with any third-party companies. It also doesn't share your verification details or social media profiles with members who view your profile.
Another very common question I get is- "Is Seeking Arrangement legit"? I'd say yes. It's legit in the sense that the website offers what it claims to offer- a massive database of sugar parents/babies.
Does Seeking Arrangements really work?
Yes. Seeking Arrangements really works. There's no reason for it not to. In fact, it's much better than traditional dating websites because the members here are more honest.
You know firsthand that your partner is interested in your money, or looks. Both parties are open and truthful about it.
On most other traditional dating sites, money and/or looks are exactly what people are looking for and yet there's this façade of "looking for inner beauty". There sure are exceptions to that.
Does Seeking Arrangement have an app?
Yes, Seeking Arrangement has an Android as well as an iOS mobile app. Using SA on either platform is free and doesn't levy additional charges.
Seeking Arrangement reviews- Final verdict
Let's sum it all up? Seeking Arrangement is probably the best sugar dating (or even normal dating) site for multiple reasons.
First, most members here are either rich, or possess impressive looks. We may deny "beauty" but unfortunately the world doesn't. The society still has a certain definition of "beauty" and most humans confirm to it.
Secondly, most users here inherently value your privacy. Both parties generally want discretion which is very desirable.
Seeking has these very impressive search filters that let you find exactly who you looking for. No other dating site even comes close to SA in terms of identity or background verification.
The platform is extremely easy to use and understand as well. So, for now, I'd rate the platform 5/5 for all my Seeking Arrangement reviews.