Adult Friend Finder review 2023. If you're searching for a date, hookup or even long-term relationship, today may be your day.
AFF claims to be the world's largest dating/swinging/hookup community. That obviously is just a claim. How true that claim is? That's exactly what we'll be dissecting in this piece.
Let's see what AFF has in store for you then?
What is Adult Friend Finder?
AdultFriendFinder, also known as AFF, is probably the world's oldest dating site. It was launched in 1996, a period when half the world didn't even have internet.
Today, 27 years later, it boasts over 80 million registered users.
It may have started as a dating site, but it has evolved into so much more.  Today, it has turned into this immensely open-minded community that mostly uses it for hookups.
As you read through this AFF review, you'd find that it's also a very feature-rich social network. In fact, some features are better even than the social networks.
Let's get into the details then?
Registration
You'll have to start with the registrations. No part of AFF can be accessed without being a registered member. Registration is 100% free.
You need to fill in this form first on the sign up page.
Once you click next, you're asked for a few more details (sexual preferences, D.O.B etc.). Fill those in and you're in.
The entire process shouldn't take more than 2-3 minutes at best.
User-Interface
The User-Interface at AFF is extremely easy to understand and use. This is the default interface when you first login.
At the very top is the top-bar (#1). This top-bar is like your menu option. You find all the important options for the site here. These include "my stuff", search options, "live action", "community" etc.
Don't bother much about them. You hover over them and they'll reveal very easy to understand options.
The left-sidebar shows your profile information to begin with (#2). Below that it shows your interactions with other profiles (#3) finally followed by some other information related to your profile (#4).
The center-area shows multiple options to find online members (#5). Just below that is your profile feed.
All in all, I'd say everything on here is pretty easy to understand, isn't it?
Ultra-advanced search filters
Why are you using AFF? To find dates and matches, right? So, the ease of finding those members obviously plays an important role, doesn't it?
AdultFriendFinder offers probably the most advanced search filters I've ever seen on any dating site, ever.
Initially, you get (not so) limited search filters when you click on the search option. These include:
Gender
Sexuality
Age-range
Location
Joining date
Online status
Profiles with photos/videos
Gold/VIP members
Confirmed members
Verified members
Or, directly using a username.
This in my opinion is already more than what most other sites like Adult Friend Finder offer.  But then, if you click "more search options" (just above the "Search" button), you'll truly be impressed.
These are the "more search options" AFF offers: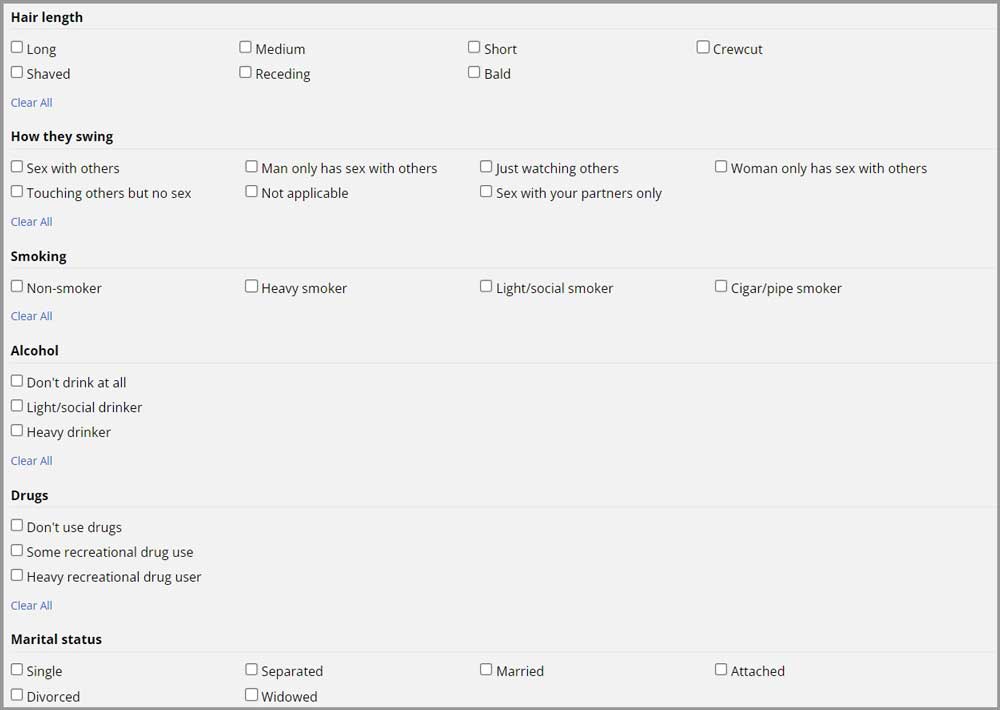 Race
Education
Religion
Willingness to relocate
Astrological sign
Chinese Zodiac sign
Body type
Languages the other person understands
Wants/doesn't want children
Marital status
Drug & Alcohol usage
Swinging preferences
Hair length & colour
Eye colour
Height
And so much more.
My point is, this is DETAILED! It lets you filter more about a person than what most people know about themselves, doesn't it?
Kink Search
This is another filter that lets you search for users based on their "kinks". This is what makes AFF also one of the best kink dating sites in the industry.
When you click on the "Kink Search" option, you get thousands of profiles interested in those kinks. It has 30+ kinks which covers nearly every kink you can imagine or are into.
You won't find the kink search option on the  normal search filters. You see this when you click on the "Search" option from the top-bar.
4 other ways to find people
To use the search feature above, you need to know what you're searching for, right? What if you don't have the answer?  Or, what if you just wish to look at a few random profiles instead of searching for them manually?
When you login, you'd always see these 4 tabs on your dashboard: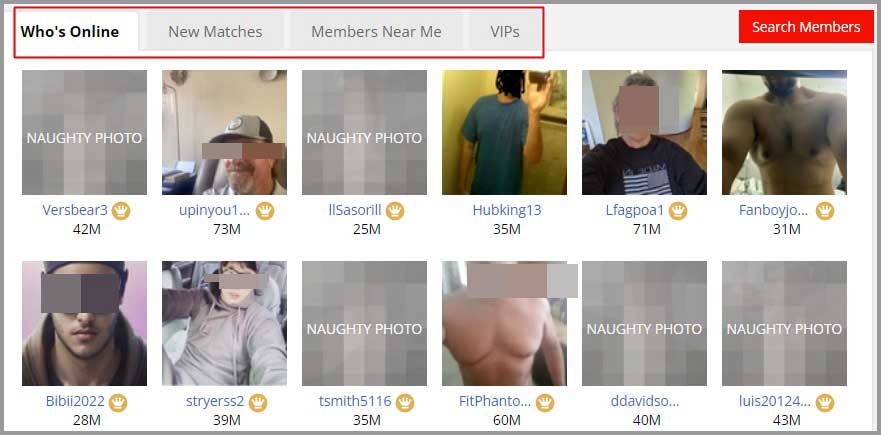 Who's online:

This shows you online members.

New matches:

These are profiles which have similar priorities/preferences as you.

Members near me:

These profiles are physically and geographically close to you.

VIP members:

These are some of the most serious members on AFF. The process to be a VIP on AFF requires additional efforts.
Point being, there are enough ways for you to find your matches.
Social Feed/Timeline/Wall
This is probably the most unique feature that AFF offers. It has a social wall/timeline/feed you can post to. Most other dating sites do not really care much about a "feed".
You can post texts, photos, videos and even use HTML tags on your posts.
You also get to add formatting to your posts. You can bold/italic/underline them, change size or choose a color for your posts.
You can even links to blogs, groups, posts by other members c. within the AFF site from this editor.
The location feature too is available letting you tag your post with a location. You can even directly tag members.  Maybe you wish to link to photos uploaded by other members? That too is possible.
Other members can like/comment on whatever you post. You too can interact with posts shown on your feed.
2 Optional identity verifications
This is probably the most impressive feature I can mention on this Adult Friend Finder review. There are two verification levels you can obtain on AFF.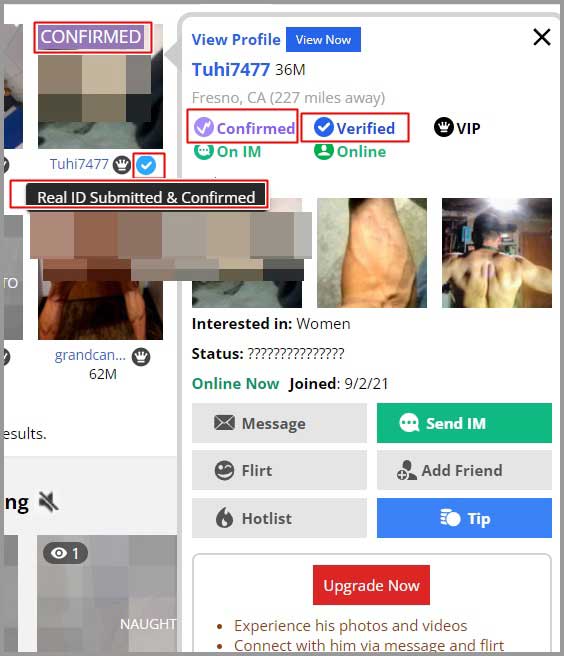 The first is the "verified" badge. The process isn't hard, you simply upload a picture with a handwritten note that contains your AFF username. This proves to the team that you indeed are the person you claim to be.
If and when a user gets verified, they get a blue tick and "verified" label on their profiles. It also is one of the most widely used search filters on AFF. People like to find "verified" profiles for obvious reasons.
If you do decide to use AFF, I'd advise getting verified and only interacting with verified profiles as far as possible.
Then, AFF also has a "Confirmed" badge. This is a bit more hardcore and more trustworthy than simply the "verified" tag.
To get this badge, users are required to enter their real name, address, D.O.B etc. A govt.-issued ID too is required.
However, getting "confirmed" also rewards users with 500 bonus points.
Profile details
By "profile details", I mean the amount and type of information you get on AFF member profiles. This is important and it decides how easy/hard it will be to judge and understand the person and their compatibility with you.
Now, you cannot access most full profiles for free on AFF. That is only for paid members. However, some users pay extra to let free members access their profiles and send them messages.
Anywhere, you can simply hover over profile thumbnails and should see something like this: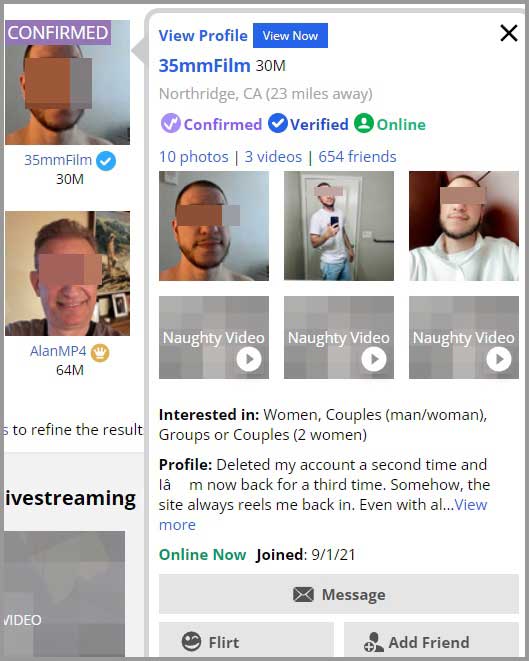 A verified badge (if available)
A "confirmed" badge (if available)
Age
Location
Gender
Interests
A few photos
Now, this is just the "overview" of the profile. If you're a paid member, you can go to the profile for dozens of other details. These will include height, body type, hair colour, eye colour, race, eye glasses and so much more.
Detailed profiles will even show you the user's kinks and "compatibility" with you.
Gifts/Tips/Flirts and other features
As a dating website, AFF isn't just about adding friends and texting them. It offers so much more to do.
For starters, you can send "tips" in the form of AFF points. You either buy these points or earn them via broadcasts and many other activities.
You can also send "flirts". These aren't free but once sent to someone, they get access to your profile even if they're a free member.'
You can also "hotlist" someone. This makes you their "fan" which makes your messages pop up for them and they get notified about your actions.
AFF also always shows who viewed your profile. The profiles you viewed previously are stored in your account as well.
Private albums and privacy
Privacy is obviously paramount on any site not just the ones for dating, don't you agree?
On AFF, you can upload photos to specific "albums". You can then grant only specific people access to these albums.
Additionally, there's also a "draw" tool. It's a pen tool that lets you draw over your face, eyes or the photo in general. It helps hide your identity.
Live webcam streams
This is yet another feature which separates AFF from its competitors like Ashley Madison. Due to its massive user-base, it always have a few hundred users streaming their cams live.
You can also watch the broadcasts from "models". These are professional streamers with better setups, bodies and often a more professional approach.
Access to these streams is free for everyone, yes, paid memberships aren't required. You can optionally tip your broadcasters with "tips" or "virtual gifts".
The broadcasters then use these points to either extend their memberships or exchange them for physical gifts.
Obviously, anyone can start broadcasting, even you.
Do note that nearly all of these broadcasts contain nudity or even hardcore sex. As a result, if you do broadcast, that's what your audience would mostly be expecting from you.
Nudity on AFF
This isn't a "feature" but just something that needs to be addressed on any Adult Friend Finder review.
AFF is big on nudity. Nearly every profile you see, every photo/post/album and broadcast will probably be nude.
This may or may not work in your favor depending on your preferences.
You do get 3 options with nudity though, you can choose to see:
No nudity
Some nudity
Or everything.
Although in my opinion, even with "no nudity" on, a few nude profiles or albums may still leak through.
Chatrooms
Adult Friend Finder also has chatrooms you can join. These are basically group chats containing a few dozen members you can talk with simultaneously.
Groups are primarily divided based on "topics" or "region".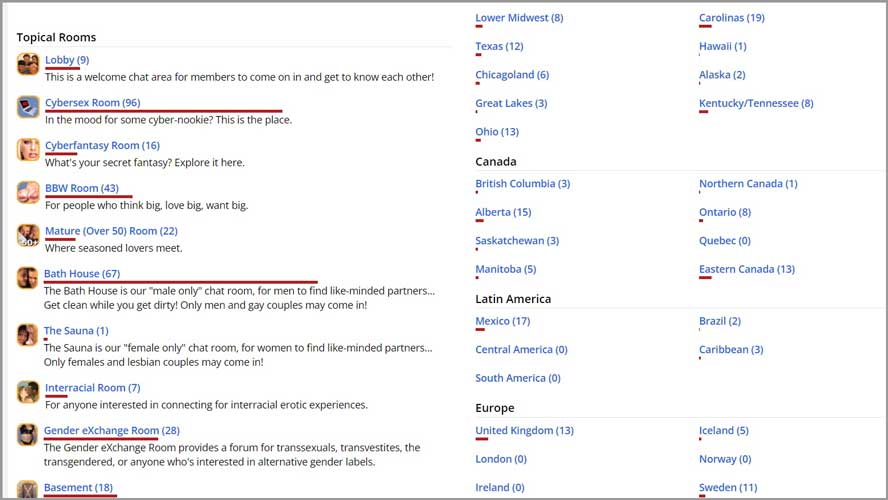 You only need a single click to join any of these rooms. Inside the rooms, the full list of members is shown.
Thanks to AFF's member-base, these groups are extremely active.  You can choose to show/hide profile thumbnails along with messages and hide/display your age.
You also get to choose the text size, font, color etc.
AFF "Community"
As I mentioned earlier, AFF isn't just a dating site. It has this "community" which includes many different ways to connect with members.
The "Community" is like a separate platform, within AFF.
The community includes:
Forums
Groups
Blogs
Stories
Polls etc.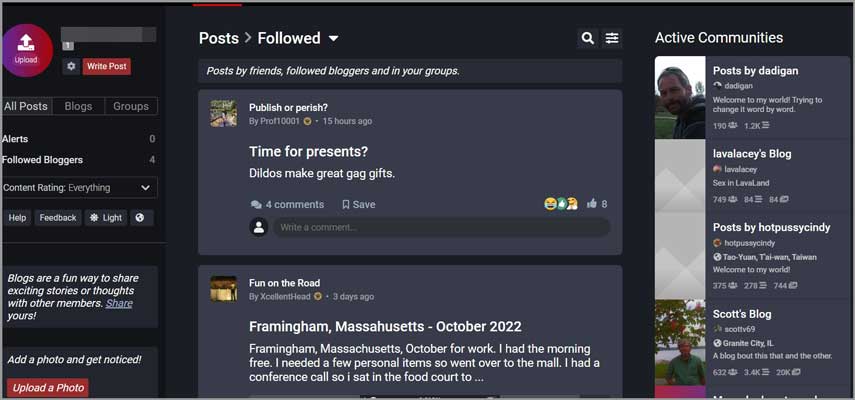 When you start out, you get to select the level of nudity you're fine with, and a few interests.  AFF then suggests a few groups you may be interested in, based on your previous preferences.
The blogs are basically just massive feeds with photos and text. You can follow these blogs so their new posts appear in your feed.
The "groups" are the same as blogs. Feeds containing text and photos. However, you can write your own posts in these groups and interact with those written by others. In the case of blogs though, only interaction is possible. You can however create your own independent blog.
"Stories" are another section that contain raw, homemade videos and photos, mostly sexual. However, these posts often contain long stories which may or may not be real.
Finally, the polls let you vote on polls created by others, or create your own polls and collect votes.
Point is, you needn't use AFF purely for sexual encounters. It has dozens of other pleasures to offer you.
AdultFriendFinder pricing plans
A logical question at this point is "how much is Adult Friend Finder"? Well, here are Adult Friend Finder prices:
Yearly plan:

$14.95/month (billed $179.40 once a year).

3 months plan:

$19.95/month (billed $59.85 once every 3 months).

Monthly:

$27.95/month.
If you choose to pay an extra  $35.85/month, free members can  view your profile and send you messages.
Frequently Asked Questions
I'm sure you've questions such as "is Adult Friend Finder good?" Is it a scam? Can it be trusted? And so on. This section will answer exactly those questions.
#1. Is Adult Friend Finder legit?
AdultFriendFinder is actually one of the most legit dating sites on the planet. It's not only because it's been here for 20+ years. It also offers verified & confirmed profiles which makes it pretty legit.
#2. Does AdultFriendFinder work?
Certainly.  I personally know a few people who've hooked up or found a somewhat longer-term relationship using AFF.
#3. Is Adult Friend Finder real?
I do see why you may ask questions like "is Adult Friend Finder fake"? Fortunately, no.  AdultFriendFinder is as real as any dating and hookup site can be in 2023.
#4. Is Adult Friend Finder a scam?
No. Adult Friend Finder is not a scam by any definition. It however is possible that a number of users there are scammers and catfishers. The best way to avoid that is to search for users using its "verified profiles" and "confirmed profiles" filters.
#5. Is Adult Friend Finder worth it?
Yes. AFF is probably one of the most "worth it" dating sites on the planet. This is because of its 80million+ members, very advanced and detailed search filters and the other features it offers.  The livestreams, groups, blogs, social feed etc. do make it a very "worth it" platform to go fishing for dates.
Adult Friend Finder review- Final verdict
In a nutshell, I'd rate AFF 5/5. I know you'd ask me "why". Well, it has one of the largest user-bases in the industry to begin with. It lets you search for verified and real profiles easily. It shows extensive details about users.
Then, there are more than one ways to interact with a member. You can send them a message, tip, gifts or reply to their feed posts.
The groups/blogs are something else that most other AFF competitors lack. Obviously, there's room for improvement, especially with its UI. But that's not a deal-breaker, is it?
Hey, this AFF review wouldn't get you your dates. Go sign up right away for free and see if you get lucky?