Adult Friend Finder vs Ashley Madison which one is better? Both the platforms have a lot in common but they've also got vast differences.
It's those differences (and some similarities) we'll compare and contrast in this piece. Do note that I use and like both the platforms equally. They both have different uses and features.
However, if you simply ask me "which is a better dating platform?" the answer gets a bit complicated.
Hence, throughout this piece, I'll compare the following aspects for both the platforms:
Core Purposes (USP)
Ages of the sites & no. of registered users
Bot and spam accounts
Nudity
Free profile access
Search filters
Pricing modes- Credits vs. Subscription
Registration process
User-Interface
Privacy and anonymity features
Private and public photos
Identity verified profiles
Sending messages
I do believe that would cover most, if not all the things you'd like to know when comparing Adult Friend Finder vs Ashley Madison. You agree, don't you?
Let's get going then?
Core Purposes (USP)
Ashley Madison and AFF are both dating websites but with very different primary purposes.
Ashley Madison is primarily an "extra-marital affair" site. It helps engaged/committed or married people hook up.  At the same time, Ashley Madison also welcomes single individuals.
This means the user-base at Ashley Madison doesn't care much about your current relationship status. A lot of users there may already be in a relationship and are looking for a new spark. You'll find a lot of matches regardless of you being single, or in a committed relationship. No judgements.
The no. of engaged profiles however will obviously be higher on Ashley Madison than on AdultFriendFinder.
On the other hand, AFF is primarily a hookup site. The "relationship" factor is moot here. Meaning, I've seen equal amounts of committed and single profiles on AFF.
Pricing modes- Credits vs. Subscription
This is the first aspect I'm discussing for two reasons.
First, how much money each platform charges is probably a very important factor for anyone here, isn't it? Secondly, there are vast differences to the pricing "modes" of the two which gives this comparison a good start.
"Ashley Madison is 100% free, for women. AdultFriendFinder is not."
Then, Ashley Madison uses a "credit-based" system while AFF uses a monthly subscription. On Ashley Madison, you buy credits and can perform different actions using those credits, like sending messages. In other words, you only pay for those actions and features that you actually use.
On AFF, you pay one monthly (or yearly fee). You get access to most features with your subscription and there's no "running out of credits".
As for the pricing plans, Ashley Madison has 3 primary pricing plans:
Basic:

You must purchase minimum 100 credits, each credit costs about $0.18. The plan sells for about $18.13

Classic: Minimum 500 credits

-$0.12/credit. Plan costs $60.71

Elite:

This offers the cheapest credit rate. Each credit on this plan costs only $0.08. The minimum purchase is 1,000 credits which you get for $85.04.
*The pricing may be slightly different based on your region and currency conversion rates.
AFF too has 3 pricing plans, which cost:
Yearly

– $155.57 ($13.02/month)

3 months

– $52.13 for 3 months ( $17.38/month)

Monthly

– $24.65/month
Verdict: Because of the completely different pricing models, there's no winner or loser here. I personally like Ashley's credits as I only pay for what I use. You may be more comfortable with AFF's monthly fee.
Ages of the sites & no. of registered users
The no. Of users matter as they are the pool from which you'll select your partners.
Ashley Madison was founded in 2001, while AFF first broke ground in 1996.
This obviously means AFF is older , however, this doesn't show much when it comes to the number of registered members on each site.
Ashey Madison has over 80 million registered members as of today, and almost the same number of users can also be found on AFF.
Verdict: Because they both have more or less the same no. of users, I call this a draw.
Bot and spam accounts
This is a major problem on dating sites today, especially the ones dealing primarily with sex.
If I'm being honest, I did see a few more bots on Ashley Madison than AFF.
Note that I'm only talking about AUTOMATED BOT ACCOUNTS, not spam accounts so far.
If spam is to be considered, AFF clearly had more of them. That's primarily because AFF is More than just a dating website.
It also serves as a live streaming platform and casual social network for hookups. As a result, a ton of users sign up simply to watch the free streams or look at naughty photos/videos uploaded by users.
Hence, you may comparatively more catfishers and fake accounts on AFF than Ashley Madison.
Verdict: AFF wins the case for "automated bots" while Ashley Madison takes the prize in terms of spam/fake accounts.
Nudity
This isn't something that will make or break your deal. It certainly doesn't for me.
However, because we're comparing every aspect of these two platforms why leave this out?
So, AFF clearly has way more nude content than Ashley Madison.  In fact, you'd find almost no unsolicited nudity on Ashley Madison. People may share it privately but there are no nude profile photos or videos just uploaded out there.
On AFF however, profile pictures are mostly nude, the social feed is full of homemade nude videos , and then there are the groups. Obviously the livestream is full of nude models broadcasting live as well.
You do get an option to hide nudity which hides most, if not all of those naughty content.
Point being, if you need nudity, AFF is a better option. If you need a more clothed environment  , Ashley Madison is your better friend.
Verdict: Ashley Madison will offer you a less nude experience while AFF is full of it. There's no winner or loser here, it's just about what you're looking for.
Free profile access
By profile access, I mean the ability access profiles without being a paid member. This is something that's more significant than most people think it to be.
Ashley Madison let's you browse any profile for free. You do not have to pay to check profiles. AFF doesn't.  Why this matters ? Well, if you're paying, you need to know what profiles and users exist on the platform , right?
That would let you make a better and more educated decision. However, you can't do that on AFF. To browse profiles. You must pay on AFF , this means you cannot know for certain the type of existing users before you actually pay.
You can however 'hover' over the profiles on AFF  and this gives you a basic idea of the user.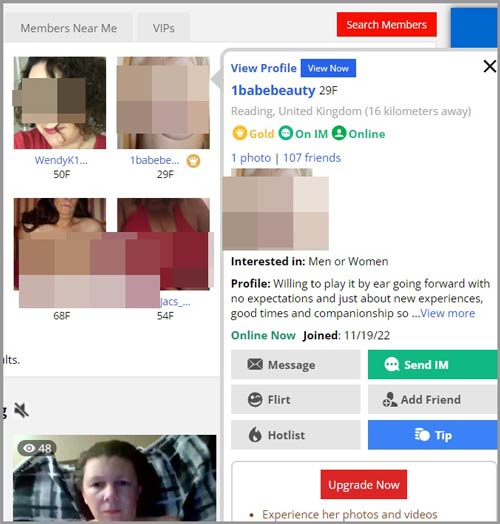 While this isn't complete information, it still fills in a lot of gaps, doesn't it?
Winner: If you need free profile access, Ashley Madison is clearly the winner.
Search filters
The search filters are obviously extremely important, especially with websites that have 80million or so members, aren't they?
I'll not waste your time here. AFF has a much better search feature. It has more features which let you be very specific about what you're searching for.
Ashley Madison lets you filter for: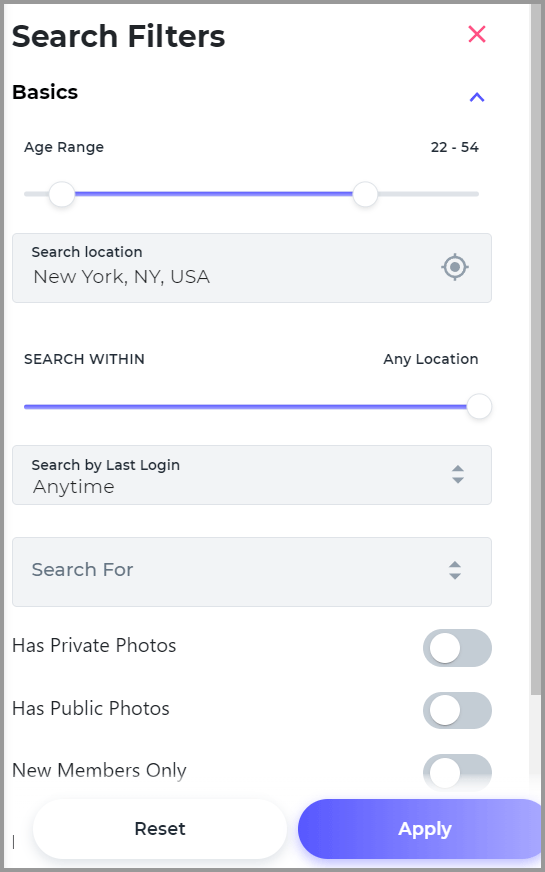 Age range
Location
Last login time
Relationship status
Private & public photo availability
AdultFriendFinder on the other hand has like 50+ search filters. You can search for:
Age
Location
Verified profiles
Members with a specific subscription
Breast size
Sexual orientation
Hair colour
Child preferences
Religion
Their willingness to relocate and a lot more.
Verdict: AFF clearly wins if we compare Ashley Madison vs AFF against "search filters".
Registration process
If I'm comparing Ashley Madison vs. Aff, I'd like to compare every inch of their existence. The registration process is the first interaction you'll have with either and hence is important, don't you agree?
I personally like Ashley Madison's registration form better. This is primarily because it's a single-page form.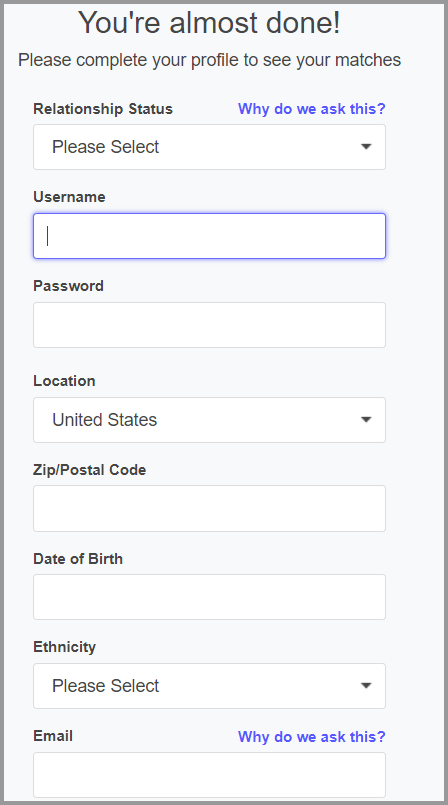 Everything I need to fill in is on this form. There are no additional pages or forms to fill in.
On the other hand, AFF starts with a relatively smaller form.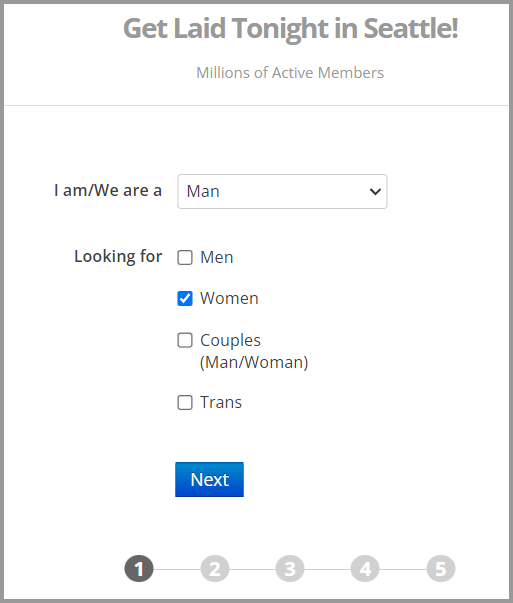 However, you have to fill in 4 other short forms once you click the first "Next" button.
The information asked on both the platforms is relatively similar.  There's your D.O.B, location,  sexual preferences etc. However, AFF has a few additional fields you can fill in, these are completely optional. All of these are used to show you better profiles and vice-versa.
Winner: Ashley Madison wins here because of its comparatively shorter form.
User-Interface
The UI basically is the look & feel of the site. The ease of using it without getting confused.
So, this is what you see on Ashley Madison once you login:
And this is what AFF's default dashboard looks like:
It's pretty clear that Ashley Madison has a cleaner interface. It shows you profiles, and a few important options at the top-left.
AFF on the other hand is like a full-fledged social media network.I wouldn't say it's "harder". It just has more features, buttons and a somewhat more "crowded" UI than Ashley. Don't you agree?
But, let's be honest, AFF actually has more "features" than Ashley.
Verdict: If you simply need a clean, easy to use UI Ashley is the better choice. If you need all the additional features AFF offers, go for AFF.
Privacy and anonymity features
These are probably the most important features for many of you reading this AFF vs Ashley Madison piece, right?
Now, the one feature both Ashley Madison and AFF offer are masked photos. However, Ashley Madison offers clearly wins this round. On Ashley Madison, you get a few "masks" that you can insert on your photo.
You can hide just the right amount of your face while keeping this neat and professional.
Now, AFF too lets you edit your photos. However, there are no "masks". Rather, it has a simple draw tool. You can use your mouse to draw random lines on your face to hide it. However, it surely doesn't look as nice as using professionally designed masks.
Then, Ashley Madison also lets you "blur" your photos. This is something else AdultFriendFinder lacks. AFF does have two brightness modes but in my experience they don't change the photo much. It also has a few "shapes" you can add, again, not really helpful when it comes to hiding your face without ruining your picture.
Ashley Madison also takes care of your credit card statements. If you ever pay on Ashley Madison, the charges aren't billed to Ashley Madison. They're billed to a different name so your card statement doesn't reflect your involvement with the company.
AFF on the other hand bills its transactions to "FFN.com*adultfriendf". This isn't very discreet now, is it?
Lastly, even the Ashley Madison mobile app is hidden/masked. It isn't labelled "Ashley Madison" and rather shows "AM". Even the logo has nothing to do with Ashley Madison. It's a black background with a white horizontal line in the middle. No mention or indication of anything related to AM, sex, affair or anything else.
Winner: Ashley Madison wins this round fair and square.
Private and public photos
Both Ashley Madison and AFF offer private albums. However, they do this differently.
On Ashley Madison, there's a simple "public" or "private" option. Anything you upload publicly can be seen by anyone on your profile. Photos in your "private" album can only be seen by those who are manually and individually granted access by you.
Things are different on AFF. You get to create albums. Then, you can select who sees these albums. You can:
Make an album visible only to friends.
Make an album visible only to friends in a certain "group".
Or, you can completely hide the album.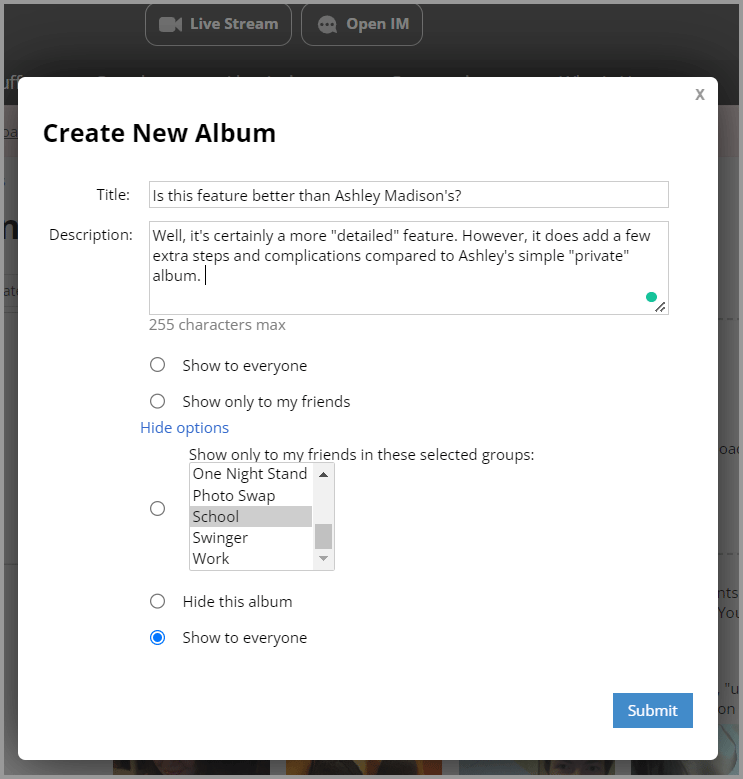 Now, what I personally do is select one group that I'll use as my private album. E.g. "School". Then, I add anyone who needs access to my private album to this group.
Verdict: Ashley Madison offers a simpler "private album" while AFF requires a few extra steps. I'd go with Ashley for this one.
Identity verified profiles
This is both a desirable, and an undesirable feature.
Ashley Madison has no "identity verification" feature. This keeps you 100% anonymous and private.
AFF does have optional identity-verification. You may choose to get your profile verified. If you do that, you get the blue verified tick on your profile.
You can also use this to find more authentic, legitimate profiles on AFF .
Verdict: Ashley Madison is perfect and better if you need anonymity and privacy. AFF is the better option if you're worried about the other person's legitimacy and authenticity
Sending messages
You can send instant chat messages on both the platforms. However, you can not send a message on either platform for free.
Ashley does let you send free messages if you're a women and this is where it may have a slight edge. However , you can't do that on AFF.
The messaging system slightly varies as well. AFF lets you send unlimited messages while you can only initiate X no. Of conversations on Ashley Madison depending on your available credit.
Moreover, Ashley Madison has this "Priority Message" feature. It costs extra but highlights your message in the receiver's inbox.
Verdict: In my opinion, the credit-based system on Ashley keeps spams extremely low. No one spends money (credits) to initiate a contact with you if they aren't serious. However, scammers may often use AFF's one-time subscription feature to spam users. Although,  AFF wins here if you simply take "unlimited messages for a one-time fee" into account.
Adult Friend Finder vs Ashley Madison which one is better?
In my opinion, Ashley Madison is better. This is primarily because of its much cleaner, more professional interface and impressive privacy-features.
However, AFF cannot be discarded. It's without doubt the second-best choice if and when you try to find a date.
It's just that both the platforms have a slightly different user-base and "goal" . AFF clearly has more "features" (live broadcasts/ groups/ feed etc.) while Ashley has a more serious user-base.
All in all, I'd say you may start with Ashley Madison and then if that's not enough, you've always got AdultFriendFinder.