The best gay sex toys may be very hard to find if you weren't on this list. That's primarily because nearly every one of these sex toys for gay people market themselves as being the "best".
Even if you do manage to find these toys online, you don't know how they work or how fun they actually are. You may even be sacred of using the right toy the wrong way.
To counter that, here are the decade's best gay male sex toys in existence. You can go with any or all of them and be sure that you wouldn't be disappointed.
Also, I haven't only included items you "shove" somewhere in your body. There are masks, harnesses and many other gay toys here that you'd like.
Pro tip: For any of these toys, when you require a lube, try and go with water lubes. Silicon lubes aren't as safe and may also damage these products over time.
Best Gay Sex Toys
Here we go:
1. Vibrator/ Massager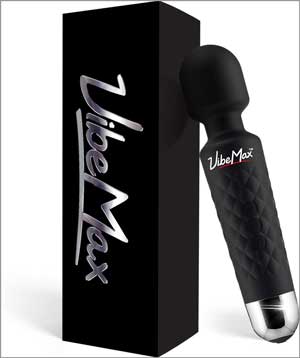 The first one here is probably the most commonly known and easily available sex toy for men. For taboo and legal reasons, Amazon doesn't sell it as a sex toy. It sure can be one if you're creative enough.
So, these "massagers" /"vibrators" basically vibrate at a very high frequency.  The male body is very sensitive, in multiple areas. You can just tease your (or your partner's) nipples, inner thighs or that thing in the front.
You may also try welcoming it via the backdoor. A lesser known fact is that the G-spot isn't exclusive to women. If size is an issue, you can try the much smaller and less feature-rich but cheaper alternative by clicking here.
In most cases, you get speed options. With the one I've linked above, you get as many as 20 vibration modes and 8 different speeds!
As for quality, I know a about 4 people who've been using this for the last 3 years and it's still going. The pricing is so cheap it pays for itself within days.
2. Anal Beads
These aren't much different from the gay vibrator we just discussed, more like an upgraded/better version.
It basically is a vibrator shaped like anal beads. This one comes with 5 bulbs, each increasing in size depending on the level of insertion and the pleasure you seek.
It even has an external, additional, removable bullet that you can attach to it. This too vibrates. Where you want to put it is completely up to you.
There are as many as 16 different vibration patterns. You can also choose from 3 different speed settings. Being waterproof, it's the perfect bathtub or shower companion!
It's made out of Silicon so it's body-safe as well as comfortable. Don't take my word for it, the pricing and reviews on this one would cement what I've said so far anyway.
3. Double Ended Dildo
Website: https://amzn.to/3UvAwK4
The best gay dildos are the double ended ones, don't you agree? There may be times when you both want something inside you, at the same time. For many, even looking at your partner going through the "activity" may be a kink.
It's those times this double-ended warrior jumps (or inserts) to your rescue. There are over 7 colour options and about 5 different size options you can go with.
The used material is non-phthalate PVC and is body-safe.
A piece of advice, it may smell slightly off when you take it out of the box. However, it's perfectly safe and the smell is because it's been locked in the dark for a few weeks or months.
4. Cock Cage
The Cock Cage is exactly what it sounds like, a cage for your cock. It actually serves multiple purposes. For starters, it gives you extra size which I'm sure your partner(s) will love. It's not just the length but also the girth and overall firmness that it enhances.
The other benefit actually helps both parties, delayed ejaculations. You can keep the action going for much longer.
It's made using Phthalate-Free TPE which is safe for your body.I'd obviously recommend not using it for more than 20 minutes at a time though.
6. Spreader
Buy: https://shop.oxballs.com/SPREADER-SPEC-U-SLIDER-PLUG-OXBALLS-OX-1342.htm
If you're searching for the best male ass sex toy for gay men, this is it. The product is actually called Oxballs SPREADER SPEC-U-SLIDER PLUG. To put it simply, it spreads your tunnel from the inside.
All you need to do is shove it up your ass, literally. Once in there, it opens up and stays open. The primary function here is to train you for a bigger rod on your next encounter.
Obviously, you can also use it with the Anal beads or vibrators is you're more self-dependant.
You get this in 2 sizes. Ever played pool? The smaller size is closer to a poolball's size, with the largest circumference being 7.5"/ 19.05 when it's closed.  When open though, it's 8.75"/ 22.23 cm at its best.
The other size is much bigger and spreads up to 10.25"/ 26.04 cm at its best.
7. Neoprene Buttplug Harness
Buy: https://shop.oxballs.com/NEOPRENE-BUTTPLUG-HARNESS-OXBALLS-C-10032.htm
This is another product from the same company which produces the Spreader we just discussed. The harness basically let you attach quite a few gay men toys and enjoy them throughout the day. Yes, it can be worn and used for the entire day and no one notices.
There are four sizes you can go with. The small/ medium/large or XL. The pleasure and entire experience mostly depends on what you use it with.
I'll be honest; the pricing is a bit steep on this one. However, considering that you can use it for a very long duration safely, it sure is worth it.
8. Pump Cylinder Kit
Buy: https://www.forttroff.com/store/product/rosebud-cylinder-kit/
This one was new even to me. If you hit the gym, you probably have used or seen those vacuum pumps we use on our bodies, haven't you?
It's basically the same thing, but for your ass. You insert it in and it seals everything around itself. Once the pump is turned on, it pulls at everything for a pleasurable sucking sensation.
It does need you to use lube and again I'd suggest water-based lubes. It's not mandatory though.
You get to adjust and control the pressure. If you go to the link above, there's a full live action video showing you how it works without all that blurry censorship that we all hate.
9. Chastity Cage
Buy: https://www.forttroff.com/store/product/silicone-chastity-cage/
While there are hundreds of Chastity cages on sale, this one is a personal favorite of mine. That's primarily because it's Silicon based and can be used 24*7. It's waterproof as well so it doesn't care if you're in the bathtub or the shower.
Many of you will probably like its aesthetics as well. There's an actual lock around it that needs an actual key to open it up. The balls remain free but there's no way you're getting a boner.
It works for any cock that's 8" or less which I'd say is a pretty decent margin, don't you agree?
10. Eagle Talons
Buy: https://www.mr-s-leather.com/eagle-talon-tit-clamp-black
The name wasn't just for creative purposes, it's literally what it is. It's a five-pronged nipple clamp. It'll make you happier if you or your partner are into BDSM.
The nipple clamp basically squeezes your nipples just the right amount so there's no damage but you kinda wish there was.
Unfortunately (or fortunately) there's no adjustments on this one. It has a fixed pressure and you or your partner must endure it, there's no mercy here.
11. Head Harness and Mask
Buy: https://www.mr-s-leather.com/bishop-head-harness
Initially, I was just going to include a cocksucking mask here. However, I remembered there was this mask + harness that serves dual purposes.
So, it's obviously a mask your partner can wear when using their mouth down there. It's very modular in the sense that you can attach and remove the eye mask, nose cover and basically the entire gag.
A total of 6 buckling straps are available which let you decide what you wish to keep or remove off the mask.
Then there are 3 D-rings letting you hook the mask to ropes or other instruments of pleasure you may be fond of using.
12. Sounding Kit
Buy: https://www.forttroff.com/store/product/silicone-master-sounding-kit/
The Sounding Kit is probably one of the most underrated but best gay sexual toys. You sure may be a bit squeamish at first but what you get in return is more than worth it.
The Kit contains not one, but 5 different sounding tools each with a very specific purpose. You get 2 Silicone rods that you insert, 2 bubbled rods that expand your hole and finally the zinger.
Most of these are beaded so whatever you slide in gives you that feel of progression and added pleasure.
13. Twin Bullet Vibrators
Buy: https://www.adameve.com/adult-sex-toys/vibrators/bullet-eggs/sp-sterling-twin-bullet-vibrators-15190.aspx
When talking about sex toys for gay couples, a twin vibrator definitely deserves a mention, doesn't it? You basically get two small, compact, portable and concealed vibrators.
You can use one on yourself and the other on your partner. Maybe use both on your partner's upper and lower bodies if you feel like it.
Each vibrator has its independent control! You can go really fast on one while slow on the other. A total of 7 different speed settings are available.
AA batteries can be used to power the device which take out the hassle of recharging them.
14. Nipple Clamps and Cock Ring
Buy: https://queerintheworldshop.com/collections/gay-sex-toys/products/gay-nipple-clamps-with-chain-and-cock-ring?variant=40805619400879
This is another one of the sex toys you'd like if you're into gay BDSM sex. It's both a nipple clamp as well as a cock ring. They're connected together using a chain.
Tie your partner up (with consent) and make them feel helpless. Because the clamp and cock ring are joined together, even the slightest movement punishes them on both the fronts.
The length of the chain and clamp can be adjusted so "size doesn't matter" for this one.
15. Head to Head Gay Masturbators
Buy: https://things4fun.com/products/tom-of-finland-tools-head-to-head-vibrating-sleeve-dual-masturbator?_pos=1&_sid=2e4268374&_ss=r
Imagine your cock rubbing against his. That's exactly what these masturbators make possible. At its core, it's just a tube that's open at both ends so you can put your pee-pees inside!
While I've seen many others, this one actually has bullet vibrators at both ends which just take things to a completely new level.
It also has these stimulating rings which give you a feeling no human hand can. It's compatible with both water (recommended) as well as Silicon based lubes.
Oh, this one also has a dog tag.
Final words- Best gay sex toys in 2023
These were some of the best gay sexual toys you can find today. Are there other options? Certainly, thousands. However, this list is sure to get you started, isn't it?
Please always be mindful of consent and stop words. Just because you can, doesn't mean you should. Always ask your partner what they're comfortable with and when to stop.
Also, never be in haste with these toys. They can at times be fatal. Always start and go slow and only increase the speed when you're confident you or your partner can take it.
The best gay sex toys will largely depend on your personal kinks, fetishes, preferences and tolerance level! Go on then, see which of these suite you best?